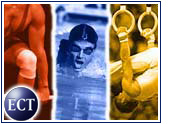 Organizers of the 2002 Olympic Winter Games said Thursday they plan to sell up to US$1 million worth of premium tickets to their events on the Internet auction site eBay (Nasdaq: EBAY).
The sale will begin with a batch of 100 tickets set to go on sale later this month.
If those auctions are successful in driving up prices and helping organizers raise additional cash, up to 1,000 tickets worth $1 million could be moved on eBay.
Organizers hope the tickets, which have face values ranging from $90 to $450, will sell for several times those prices.
Most of the $165 million worth of tickets to the Games, to be held in Salt Lake City, Utah, have been sold over the Internet. Some reports say as much as 99 percent of the tickets have sold online.
Online Track Record
In fact, the Olympics have been held up as a model for other sporting events seeking to use the Internet to reach their audiences.
Mitt Romney, president of the Salt Lake City Organizing Committee, said the committee has set aside about 1,000 premium tickets to certain events.
Romney called the tickets "super-prime, Jack Nicholson seats," referring to the movie star's front-row perch at Los Angeles Lakers basketball games.
Win for eBay
The ticket sales are another feather in the cap of eBay, which has quickly become a go-to destination for Internet-based sales of all kinds.
For instance, as many as a dozen different agencies of the U.S. federal and state governments, including the U.S. Postal Service, use eBay to sell surplus property.
And eBay has long been a favored destination for both buyers and sellers of sought-after sports events tickets, such as baseball's World Series and the NFL's Super Bowl.
Tickets Surge
Meanwhile, the online sales of tickets to sporting and entertainment events is enjoying a surge of its own.
The release of the film "Hannibal" earlier this year created a rush to some online movie ticket sites, as film fans tried to beat the theater crowds.
In addition, organizers of the 2002 World Cup had hoped to use the Internet to create smooth sales to that blockbuster soccer event, although the sales hit a few technical glitches.
Mixed History
The Olympics and the Internet have a mixed history, however.
IBM, which hosted the official Web sites for the 2000 Summer Games held in Sydney, Australia, estimated that its sites set records for page views. However, the online viewing experience drew many critics because the choppy video proved a weak replacement for live TV coverage.