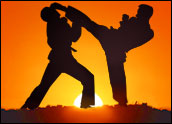 MTV and RealNetworks have formed a joint venture that will utilizeVerizon Wireless' distribution capabilities in an effort to dislodge Apple's vise-like grip on the online music space.
As part of the iTunes-killer venture, MTV is merging its Urge music service with RealNetworks' Rhapsody. One of the distribution channels will be Verizon Wireless' V Cast service for cell phones. The content will also be accessible via computers and will be free of DRM (digital rights management) restrictions, allowing it to be played on any device.
A new company, Rhapsody America, will run the service, with heavy marketing support from MTV.
Change in Tactics
Taking on iTunes is a formidable task, even for these heavyweights. Urge has already had a run at becoming an alternative to iTunes. Last year, Microsoft and MTV Networks established the service as the default online music setting for Windows Media Player.
The Urge initiative and Microsoft's answer to the iPod — the Zune player — have arguably fallen flat. Companies interested in besting Apple — a group that now includes cell phone providers resentful of AT&T's exclusive franchise for the iPhone — are now focusing their energies on a slightly different strategy: free DRM.
The companies are targeting what was once considered Apple's core strength: the symbiotic relationship between iTunes and the iPod, which made downloading music very easy. Now that the online music market has matured, though, consumers may be more receptive to the argument that players should be open to any music source.
Flood of Competitors?
"I think what we are seeing is the beginning of a deluge of services that will compete with iTunes but through a slightly different value proposition," Pund-IT Principal Analyst Charles King told the E-Commerce Times.
Universal Music Group recently decided to sell content without copy-protection restrictions — RealNetworks has just begun using it — and Wal-Mart is now selling music from its Web site that can be played on any device, he noted. E-commerce titan Amazon will be joining the fray shortly.
"The market is about to become much more crowded and give consumers a lot more choices," observed King.
Clearly, iTunes will feel some pressure now that consumers can go to different venues to download songs onto their iPods, he said. "The question is whether consumers will remain as wedded to their iPods as they are now."