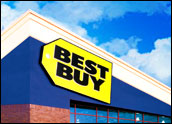 Leading electronics retailer Best Buy said Thursday it would partner with MP3 player maker SanDisk and RealNetworks to create and promote a subscription and buy-to-own music service. The collaboration is the latest effort to dethrone Apple from the top of the digital music market.
The Best Buy Digital Music Store uses RealNetworks' Rhapsody service, and will be featured on the SanDisk Sansa e200R line of Rhapsody MP3 players, which the companies said have been "optimized to work seamlessly" with the new store. The new MP3 players and the new service are set to launch on Oct. 15.
"Our goal is to deliver entertainment to our customers how, when and where they want it, and to help them have the best possible experience," said Jennifer Schaidler, vice president of music for Best Buy. The store and the customized hardware "provide an end-to-end digital music solution that will deliver unique content and a premium customer experience."
The choice of subscription or per-song download may give the new service an edge over some either-or competitors to Apple's iPod and the iTunes Music Store, but some analysts say it remains to be seen if any service can become a significant competitive threat.
Meanwhile, the Best Buy offering launches about a month ahead of Microsoft's alternative to the iPod and iTunes — the Zune MP3 player and the Zune Marketplace music service.
Point of Purchase
RealNetworks CEO Rob Glaser said the partnership offers his company "an awesome marketing and distribution platform" for Rhapsody, which he said the company has spent two years refining. Rhapsody is considered the largest subscription-based music offering, with some 1.6 million subscribers.
The alliance could also be a significant boost for SanDisk, because Best Buy sells tens of thousands of MP3 players each month at its 840 stores across North America and is the leading retailer of MP3 players in the U.S. Best Buy also sells Apple's iPod line in its stores and through its Web site.
To build interest, the store will launch with an exclusive track from Diddy. Best Buy will also promote the service with in-store marketing efforts.
Buy-to-own songs will cost 99 US cents, the same price as on iTunes, while the subscription service will start at $14.99 per month for unlimited listening, with the songs able to be played on a PC or transferred to a compatible MP3 device. Microsoft's Zune Marketplace will offer almost identical pricing.
The Rhapsody line of portable players from SanDisk — the number two maker of MP3 players behind Apple — will come with a free, two-month subscription to the music store and will be priced at between $139.99 for a 2 GB model to $249.99 for an 8 GB player.
Mission: Differentiation
To date, RealNetworks has not done enough to differentiate the Rhapsody business model, with its reliance on subscriptions, or to explain the benefits to consumers of adopting that approach, JupiterResearch analyst Michael Gartenberg said. The result has been a long line of reviews that favor Apple's devices and services.
"Real is going to have to really start doing some work on messaging the entire Rhapsody experience if they're going to make the inroads they aspire to," he claimed.
The Best Buy alliance may help jump-start those efforts, by giving Rhapsody front-line exposure to MP3 buyers and, presumably, arming Best Buy employees with information on the service and how it stacks up against alternatives such as iTunes.
In fact, many analysts have predicted that subscription models would eventually eclipse the Apple buy-to-own approach for digital music. Despite a growing number of choices in the space, from Napster to Rhapsody and Yahoo and, soon, Microsoft, Apple continues to sell the vast majority of digital music, controlling some 80 percent of the market.