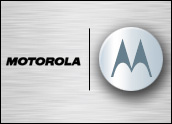 Shares of Motorola tumbled as the company reported a first-quarter loss on Thursday, based largely on lean mobile phone sales and an eroding share of the competitive sector.
Motorola shares have lost more than half their value in the last year. On Thursday, they were trading at US$9.23, down 3.35 percent from their previous close on the New York Stock Exchange. The stock dipped to its 52-week low of $8.85 April 15. It peaked for the same period at $19.68 on Oct. 25.
Losses Increased From Last Year
Schaumburg, Ill.-based Motorola's quarterly loss was $194 million, or 9 cents per share, compared with a loss of $181 million — 8 cents a share — a year ago. The company's net sales fell to $7.45 billion, from $9.43 billion a year earlier.
In late March, Motorola announced that it will split into two separate companies, separating its mobile devices group from the rest of its business. That change marked an important new beginning for the company, commented Greg Brown, its president and chief executive officer.
"Improving the product portfolio in mobile devices and positioning both businesses for future success remains a top priority," he said.
Motorola, whose Razr phone has been overtaken by popular products from Nokia and Apple, has been trying to fend off pressures from outside and inside the company.
The company also recently lost its No. 2 position in the cellular phone-manufacturing business to Korea-based Samsung. Finland's Nokia is the market leader.
Motorola recently concluded a proxy battle with billionaire shareholder Carl Icahn by allowing two of Icahn's candidates to join the company's board of directors.
Phone Sales Continue to Drop
Motorola's situation doesn't look good, Gartner analyst Ken Dulaney told the E-Commerce Times. "Motorola is going to have to do something, although I'm not sure exactly what they are going to do. They've done a reorganization, but I'm not sure it's enough. [Mobile phone] buyers just aren't there."
Motorola sold 27.4 million phones in the first quarter, well off the 45.4 million sales it had reported at the same point last year, and its mobile device unit's operating loss in the quarter was $418 million, compared with $233 million a year ago.
Revenue from the company's set-top boxes and wireless network materials increased 2 percent, to $2.4 billion, over the year-earlier period. Sales to enterprise customers went up 5 percent, to $1.8 billion.
"Our home and networks mobility and enterprise mobility solutions businesses continue to expand their portfolios of solutions, grow internationally and deliver solid financial results," Brown noted.
A Sensible Move
Mobile phone sales remain the company's most nettlesome problem, and the prospects for improvement aren't bright, said Allan Chapell, president of Chapell and Associates.
"If you don't sell phones that people want, you're probably not going to sell many phones. It's that simple," Chapell told the E-Commerce Times. "That's fine when nobody has anything better. But if you want the deluxe model, for whatever reason they just haven't been able to deliver."
Nevertheless, Motorola's plan to spin off its mobile phone unit is indeed sensible, he added. "They're in that ordinary-products-for-ordinary-people mode, and maybe their best bet is to do that in emerging markets, where they can get away with that for awhile," Chapell said. "But long-term, they have to look at what's out there. They need to provide innovation that people are seeking."
New Strategy Needed
Perhaps the company has a strategy that it's not ready to unveil, Chapell noted. "Maybe there's a big secret they're about to announce, but [if there is], you want to point to the rosy thing of the future. One has to openly wonder: Is there a strategy?"
Motorola needs to find its way quickly, Dulaney commented. "The longer this goes on, they lose [more] talent, distribution and market share."