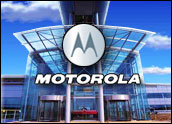 Having watched its shares lose nearly half of their value in the last year and its cell phone business continue to languish among the also-rans in a crowded field, Motorola said Wednesday it will split into two publicly traded companies, separating its mobile devices business from its broadband and mobility solutions group.
Motorola, whose Razr phone has been left behind by market-changing products from Nokia and Apple, has been trying to fend off pressures from outside and inside the company.
Billionaire Carl Icahn, perhaps best known for his hostile takeover of now-defunct airline TWA in 1985, has put pressure on Motorola as he gained ownership in the company.
Following Icahn Suit Filing
Earlier this week, Icahn, Motorola's largest individual shareholder with a 6.3 percent stake, filed suit against Motorola, asking a Delaware court to force the firm to give him access to strategic plans for the mobile device business and documents pertaining to the hiring process for senior executives.
Icahn is fighting for four seats on the Schaumburg, Ill.-based company's board, according to published reports. This is Icahn's second proxy fight in two years with Motorola. He turned down a previous offer from the company of two seats on the board.
Breaking up the company will provide maneuverability that was previously lacking, said Greg Brown, Motorola's president and chief executive officer.
Creating two companies "will provide improved flexibility, more tailored capital structures and increased management focus — as well as more targeted investment opportunities for our shareholders," he noted.
The move should be a tax-free transaction, allowing stockholders to own shares in both companies, Motorola said.
A 'Mismanaged' Mobile Group
The separation will be complete next year, pending approval, the company added.
Motorola last year lost its No. 2 slot in the cell phone market to Japan's Samsung. Finland-based Nokia is the market leader.
Icahn has "clearly precipitated" the split, Gartner analyst Ken Dulaney told the E-Commerce Times. "There are four major groups within Motorola, and three are very profitable." Those, he said, are the company's enterprise, government and WiMax businesses.
"The split will probably create one very profitable company," he commented. "But the mobile devices group has been mismanaged for many years."
Motorola's challenge is not in the hardware area, Dulaney continued. "They've never been very good at software. Given [competition] like Apple coming out with software that's incredibly user-friendly, Motorola has just never done a good job with software, in terms of usability and functionality."
The company launched the Razr phone in 2005, and the product enjoyed some success in its first two years, but sales dropped last year, as competition in the smartphone market intensified, most notably with the introduction of Apple's iPhone.
The newest plan is the latest in a series of changes at Motorola in recent times. Last year, Ed Zander stepped down as CEO, and the company slashed 7,500 jobs. The company also has had numerous changes in management positions.
No Direction?
Splitting up the company is a bad idea, Pacific Crest Securities analyst James Faucette told the E-Commerce Times, and it "probably hastens the demise of the handset business overall."
The reason, he argues, is a lack of direction. "The core issue right now is the handset business doesn't have a fundamental strategy or road map, and breaking the company in two doesn't do anything to fix that."
Motorola's cell phone business needs the stability that its other segments provide, Faucette commented. "If you look around, you'll see there are no companies that have meaningful market share that are only handset companies. Even then, that sustainability can be fleeting."
Faucette noted that Nokia — the company is the most analogous comparison as a stand-alone company, he added — had spent more than US$10 billion to diversify its own business. "So, to concentrate on handsets [is not] a high-profitability success story."
Motorola shares were up 22 cents, at US$9.98, early Wednesday afternoon on the New York Stock Exchange. The stock had bottomed out for the year, at $8.98, last Thursday after having peaked at $19.68 Oct. 25.