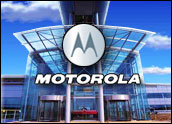 Aruba and Motorola have joined the now legion number of tech companies engaged in legal patent disputes. Motorola's subsidiary companies Symbol Technologies and Wireless Valley Communications filed a patent infringement lawsuit against Aruba Networks in the United States District Court for the District of Delaware.
Aruba infringed its patents related to wireless local area network (WLAN) communication technologies, according to Motorola's statement.
Two of the patents relate to WLAN switching architecture technology, which Motorola said significantly lowers the cost of deploying network infrastructure and drives down the cost of managing, maintaining and upgrading wireless systems. Symbol introduced the first such switch to the market, Motorola said.
For its part, Wireless Valley introduced the concept of using a predictive design approach, a three dimensional representation of an environment, and site-specific information in the design, implementation and management of wireless networks in and around buildings. Two of the patents in the lawsuit relate to WLAN site planning and RF management.
The companies are seeking a permanent injunction against Aruba's use of the patented technologies and monetary damages for infringing use.
Bad Timing
Motorola filed its suit as Aruba, which manufacturers products for wireless computer networks, announced its earnings for the fiscal fourth quarter and full year ended July 31. During the earnings conference call, CEO Dominic Orr told listeners that the company is not prepared to comment on this litigation.
"Patent litigation is a part of doing business in our industry," he said. "We are evaluating the lawsuit and will respond at the appropriate time." Aruba Networks reported a fourth quarter loss of US$3.35 million, up from a loss in the same period last year of $1.45 million.
Infrequently Granted
One doesn't have to be familiar with the details of the case to know that a permanent injunction at this stage of the suit is unlikely to be granted, Charles Hosch, chair of Strasburger & Price's Intellectual Property practice, told the E-Commerce Times.
"It would be considered an extraordinary remedy and by no means is routinely granted," he said.
To grant a permanent injunction, he said, the court would have to consider and carefully balance a number of factors, including how likely the plaintiff is to win the case on the merits; what kind of harm the plaintiff will face if the activity continues while the lawsuit goes on and whether that harm can be made right at the end by monetary damages; as well as what the best interest of the public is.
"It is a complex and difficult decision," he said, "and it often comes down to which would do the least damage: granting an injunction when it should not have been granted, or not granting it when it should have."
Little to Know
It's possible the request for an injunction was an opening shot for what could just be tough negotiations between the two firms. Certainly, Hosch said, patent litigation has become ubiquitous among tech companies and some now view it — or at least the threat of it — as a prelude to jockeying for licensing rights or some other concession. On the other end of the spectrum are those companies that collect patents specifically to cash in when they are used in best-selling products.
The point, said Jonathan Handel, counsel of Troy & Gould PC, is that no assumptions should be made of either company, especially as Motorola filed its lawsuit as a notice pleading rather than a fact pleading.
The latter, he told the E-Commerce Times, provides far more details about the plaintiff's position.
"We need to be careful not to form a judgment about Aruba. Not only do we not know its side of the story, we don't even know Motorola's side of the story," Handel said.