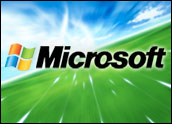 Microsoft is going to boost employees' compensation, the company announced in a memo that was sent out to its entire staff on Thursday morning.
Penned by CEO Steve Ballmer, the memo says the company has decided to shift a portion of stock award targets into employees' base salaries. The end result will be more cash up front for employees, as Microsoft's stock has remained relatively the same for the past several years.
The company plans to increase compensations even more in some high-growth areas and locations around the world. Microsoft also will tie bonuses and stock awards more closely to performance, according to Ballmer.
"The changes we're rolling out today will help ensure Microsoft continues to be the place that top talent comes to change the world," Ballmer wrote to employees. His memo was published in full by Bloomberg and Reuters.
Seen That Already
Microsoft's move follows that of its arch-competitor Google, which is raising its own employees' pay by 10 percent. Also, CEO Larry Page recently announced the company would link its bonus system to how well Google's social media efforts succeed. Google is on track to hire 8,000 employees this year, possibly one reason why Microsoft feels it must stay competitive in terms of compensation.
Could something more be at work here? Microsoft does not have the same allure for young, talented developers and software engineers that it had a decade ago. That honor shifted to Google and now has been bestowed on Facebook.
It is also noticeably lagging in the mobile arena, a tech category that is in explosive growth mode.
Clearly, Microsoft needs to boost its talent pools in certain areas, said Michael Cherry, an analyst with Directions on Microsoft. In particular, it needs to attract and retain "developers of compact OS — smartphones and tablets — as well as developers that focus on making existing OS better."
Retention is almost more important than bring on new talent, Cherry told the E-Commerce Times. "You can't discount the value of institutional memory on these kinds of things."
High Growth in General
It is also reasonable to extrapolate that Microsoft is merely responding to tech employment and compensation trends. Both are very robust now.
"Giving cash up front — that is always something that entices people," Rona Borre, CEO of Instant Technology, told the E-Commerce Times.
Facebook is attractive to young talent, she noted, which may be contributing to Microsoft's staffing issues right now. In general, though, tech salaries are rising, she said.
Even if there were no Facebook, Microsoft would have to make this move, Borre speculated.
Salaries have increased between 2 percent and 5 percent in the last 12 months — and for very skilled employees, more than 5 percent, she pointed out.
Application developers can expect to see an average 4.7 percent salary increase, noted Borre, while software engineers can expect 4.1 percent.
"It is really telling to see that companies are going after local grads now. They want to get these kids into tech jobs — train them up as quickly as possible so they can take on some of the workload that is out there," she said.
In the end, however, tech workers — especially those skilled enough to have options — are going to give the entire package a once-over as they decide where to work, Cherry said. "Salary is important, obviously, but so are things like healthcare benefits — and I don't think you can discount the value of working on exciting projects."