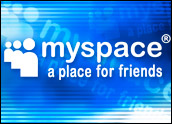 Microsoft, Google and Yahoo are the most likely alternatives News Corp. is considering for providing its popular MySpace social networking site with search functionality.
MySpace already offers a Web search feature. This April, it was included for the first time in comScore's search engine rankings, with 43 million queries performed, for a 0.6 percent share of the U.S. search market.
Like most firms with huge traffic flows, MySpace, which claims a membership of close to 60 million, is seeking to monetize this volume. Search, together with related advertising applications, is the most unobtrusive way to accomplish that goal.
Indeed, Peter Chernin, president and COO of News Corp., has pointed to statistics suggesting that the online advertising market could grow to US$600 million to $800 million over the next few years.
Rumors and Dark Horses
Providing search to MySpace is clearly a plum contract — even for Google, which already owns the great majority of the search engine marketplace.
Since Chernin announced the search for a provider, rumors have proliferated as to which will be the lucky company. Some accounts have pointed to Google; other accounts claim MySpace might make an acquisition to get the desired functionality.
One interesting rumor is that MySpace has decided to allow both Google and Yahoo to test ad opportunities on its site in order to determine which method can best monetize its traffic.
"Any one of these companies could provide search capability to MySpace," Joe Wilcox, senior analyst with JupiterResearch, told the E-Commerce Times. Google, obviously, is a likely contender, as is Yahoo. Wilcox does not discount Microsoft though.
"It is trying to land every deal it can," he noted, "and has won some interesting contracts. It is providing search for Amazon's A9 search engine, for example."
A Shift in Share
Despite the prestige factor and a likely uptick in revenue, it is doubtful that the MySpace contract will realign the search engine market to any great degree.
Google led the market with 2.9 billion search queries performed, followed by Yahoo (1.9 billion), MSN (858 million), Time-Warner Network (457 million) and Ask Jeeves/Ask Network (384 million), according to comScore's most recent survey.
"There is not going to be a significant shift in market share — not until one of these companies figures out a way to help these sites become profitable," Matt Booth, program director with the Kelsey Group, told the E-Commerce Times.
This has been a vexing problem for the search industry ever since Yahoo acquired Geocities several years ago. "There is a lot of usage and frequent visitors to these sites, but not a lot of revenue," Booth said.
Right now, using search to monetize visitor streams appears to be the accepted path to profitability. Yahoo, for instance, is getting set to launch Panama, a program similar to Google's AdWords, which Booth believes could nudge Yahoo further up the food chain.
Winning MySpace's business could have a similar effect. "It would be very telling if Yahoo were selected over Google," he said. "It would show that Yahoo can continue to compete for the big distribution contracts."