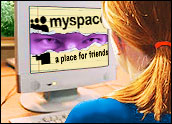 A Michigan teenager who tricked her parents into getting her a passport and flew to the Middle East to meet someone she met through her MySpace.com page is back at home, with her misadventure stirring renewed debate about the safety of social networking sites that target a young audience.
Katherine Lester, who will turn 17 later this month, was detained in Amman, Jordan as she attempted to make her way to meet a Palestinian man she met through MySpace.com.
Dangerous Trend
The high-profile incident, along with numerous others linked to MySpace in recent days — including bomb threats that closed schools in both Oregon and suburban Chicago — are renewing debate about whether the sites are appropriate for the young users who make up the bulk of their membership. The debate comes as more major advertisers are moving to embrace the social networking trend, recognizing a rare opportunity to tap into a much sought-after demographic.
For its part, MySpace.com said the incident involving Lester underscores the need for parents to monitor their children's online movements.
"At MySpace, we take seriously our responsibility to provide a safe and well-lit community for all our members," Chief Security Officer Hemanshu Nigam said in a statement. "The Internet is a powerful tool for connecting people with one another and, at the same time, parents are learning that they must teach their teens how to be safe and smart online."
He added that "every page of our site provides a direct link to safety tips and we offer special safety features for our younger members." The site recently added links to The National Center for Missing and Exploited Children as well.
Risky Business?
Defenders of MySpace note that thousands of cases of adults luring teens take place online and most do not involve the site or other social-networking destinations. Detractors say the nature of the site — which invites users to post personal details and photographs — makes it a logical landing point for those with ill intent.
MySpace, which is now owned by the online arm of Rupert Murdoch's interactive online division, also notes that its membership has grown well beyond the teenage demographic that draws the most attention. According to figures from comScore Networks, 22 million adults aged 35 and older use MySpace on a regular basis and some 60 percent of unique monthly visitors are over the age of 25.
Whatever the demographics, MySpace boasts a massive audience base and may challenge traditional portals for users. That might not translate directly to advertising revenue, however, in part because of the type of use and content that MySpace boasts. Even when all those involved are adults, MySpace pages often contain graphic images and boisterous banter.
JupiterResearch analyst David Card said a "distinct group" of the advertisers he has spoken with say they are "extremely uncomfortable about advertising around the kind of content and activities that go on around MySpace."
"I don't think they've proven the revenue models yet," he added.
MySpace has gained huge visibility since Murdoch purchased it last year, Outsell Vice President Chuck Richard said. Advertisers are torn about how to use social networks, since they offer a chance to tap into a medium where a marketing message can be passed along virally to a key consumer niche but also the obvious drawbacks, he added.
"There's a lot of very careful analysis being done on that question" of whether to advertise on the sites, Richard told the E-Commerce Times.
Help or Hindrance for Job Seekers?
Even as the Lester drama was unfolding, MySpace was announcing plans to link with online job search engine Simply Hired to create a careers area on the MySpace site.
Shawn Gold, senior vice president of marketing at MySpace, said the job feature "seamlessly integrates our members' online and offline lifestyles" and is a recognition that "work is an important part of how people define themselves."
However, John A. Challenger, the CEO of global outplacement consultancy Challenger, Gray & Christmas, told the E-Commerce Times that mixing the world of blogs and social networking with work may not be a wise idea for everyone.
"People should be encouraged to explore the possibilities of social technology, but one has to realize that to land a position, a job seeker needs to create the profile of a competent, reliable candidate who will best serve the employer," Challenger said. "Job seekers have to remember the Internet is for all eyes. Anything they create online can come back to haunt them."