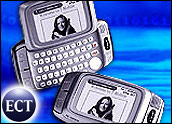 Microsoft has made a bid forDanger, the mobile software and services provider that designed one of the slickest devices on the market: the T-Mobile Sidekick.
Financial terms of the deal were not disclosed.
Applications on Danger-powered handsets include HTML Web-browsing, instant messaging, games, multimedia, social networking, Web e-mail and personal information management applications.
Microsoft plans to fold Danger into its entertainment and devices division in order to align such properties as MSN, Xbox, Zune, Windows Live and Windows Mobile with Danger's Gen X-friendly features.
The Youth Niche
Microsoft appears to be going after the lucrative teen market with its latest mobile play, said Andy Belt, a practice leader at the Monitor Group, which focuses on the telecom, media and technology sectors.
"You can't succeed in mobile by being all things to all people. RIM, for instance, excels in the enterprise e-mail push market. Microsoft, by contrast, is homing in on another key component of the mobile market," he told the E-Commerce Times.
Not Ceding Ground
The deal also has symbolic significance for Microsoft and its shareholders: It indicates the company is not ceding ground to Apple and Google in this space, Belt continued.
"Microsoft has been cultivating mobile assets for several years, and these haven't been accelerating in the way I think Microsoft had hoped they would do. Success [in the mobile sector] is critically important," he said, "because it is such a huge source of revenue."
Microsoft may be eyeing new revenue opportunities, such as mobile search and GPS (Global Positioning System)-based marketing, Belt added.
There are other indicators that Microsoft may be gearing up for a strong push in the mobile space.
"There are rumors, for instance, that it is in talks with Nokia to add Windows Mobile to its handsets," Belt commented.
It's not that Windows Mobile — Microsoft's main mobile offering — has done poorly.
"It just hasn't caught fire like the iPhone, for instance," observed Belt.