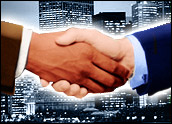 Sony Ericsson has debuted a new handset, the Xperia X1 — its first to operate on the Windows Mobile operating system.
Microsoft announced the collaboration as the Mobile World Congress got under way in Barcelona, Spain.
The deal could be a major coup for Sony Ericsson, which holds a 50 percent stake with Motorola in UI Holdings, the parent company of Symbian developer UIQ Technology.
Xperia X1 features a 3-inch VGA (video graphics array) display with an arc slider for the keyboard, and it supports HSDPA (high-speed downlink packet access) and HSUPA (high-speed uplink packet access) networks, as well as WiFi.
Another Major Manufacturer Now on Board
The deal now gives Microsoft alliances with four of the world's five leading handset makers — the company has previous arrangements with LG, Motorola and Samsung. Nokia, the world's leading handset manufacturer, has an arrangement with Symbian.
"It means a couple of things," said Ramon Llamas, an analyst for IDC. "For Sony Ericsson, it's been a distant follower in the smartphone base in the U.S. Take a look at RIM (Research In Motion), Palm [and] mainstays like Motorola and Samsung. And Apple is in it now, too.
"Sony Ericsson, despite its long history of devices that have done well in Europe and Asia, just hasn't done as well in the U.S. market. This is Sony Ericsson's concentrated effort to take their business to the U.S. specifically," he added.
It's also a prime opportunity for Microsoft to make some strides in the global smartphone market, Llamas told the E-Commerce Times.
"This is another way for Microsoft to establish itself a little further on smartphones," he said. "Sony Ericsson has some good devices that are pretty popular and welcomed by enterprise users."
Microsoft expects to have about a 13 percent share of the worldwide smartphone market by the end of the year.
Not a Response to iPhone Gains
The deal is not necessarily a direct answer to gains by rivals such as Apple, which made a splash with consumers last year with the introduction of the iPhone, Llamas noted.
"This is Sony Ericsson's way to get into the smartphone game here in the U.S., which is going to be growing consistently," he said.
In 2007, the number of subscribers in the U.S. grew from 8 million to 20 million, Llamas commented. "That growth is going to be accelerating, and not just by the mainstays."
Competitors likely aren't worried about any incursion by Microsoft. "I think the attitude is, 'Jump in — the water's fine,'" he said.
Indeed, the deal is Sony Ericsson's big chance to gain a foothold in the U.S. market, said Anne Thomas Manes, an analyst with the Burton Group.
"Symbian is almost nonexistent in the U.S.; certainly, the U.S. is dominated by RIM, and now the iPhone is No. 2," Manes said, noting recent statistics published by research firm Canalys that showed RIM with 41 percent of the U.S. market and Apple's iPhone with 28 percent.
"Symbian has just a portion of 1 percent of the U.S. marketplace, so it makes perfect sense for Sony Ericsson," Manes told the E-Commerce Times. "Windows Mobile has 21 percent of the market — that gives Sony Ericsson at least a leg to stand on. Microsoft, I'm sure, is very happy to find another manufacturer to use Windows Mobile on their machines, but I'd say this is really an effort by Sony to penetrate the U.S. market. In Europe, it's one of the more popular ones, although they got displaced by Apple in just two months of the last quarter."