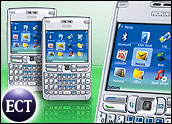 The global mobile handset market ended 2007 with a bang, recording shipments of more than 300 million devices in the fourth quarter, according to a report released by IDC Friday. While year-over-year growth for 2007 slowed, the 334 million handsets shipped during the holiday season set a new industry record and was an increase of some 15 percent over the previous quarter.
Shipments in 2007 totaled more than a whopping 1 billion units at 1,144.1 million, representing 12.4 percent in overall growth.
Growth in 2008 and beyond will look much different, however, IDC said. Double-digit gains are a thing of the past from now through 2012, the research firm said, and growth will slow with the market reporting single digit increases.
"Over the last three years, growth in the industry during the holiday quarter has fluctuated from 18 percent to 30 percent, and this past quarter we saw it drop to 11.6 percent," said Ryan Reith, senior research analyst with IDC's Worldwide Quarterly Mobile Phone Tracker.
"The expectation that the market would maintain the level of growth it saw over the last three years was unrealistic. We expect growth to be in the single digits throughout 2008 and most likely for years to follow," he continued.
Nokia and Samsung Take the Top Prize
Nokia owned the top spot dominating its competitors with a 40 percent share of the worldwide market. The company shipped more handsets in the fourth quarter than Samsung, Motorola and Sony Ericsson combined, IDC reported.
The big winner in 2007, however, was Samsung. The Korean cell phone maker, previously ranked No. 3, owned the No. 2 spot for the third consecutive quarter, making it the No. 2 vendor for 2007 and displacing Motorola.
Good business practices, its Ultra line platform, strong marketing and a wide spectrum of device offerings were significant keys to Samsung's success in 2007, Reith told the E-Commerce Times.
"They've really got a lot of things together, and they've had an excellent year, not just from a shipments perspective. They've managed to keep profitability up — that's the big thing they have over Motorola. You can drive shipments out the door like crazy, but if you don't keep an eye on costs and profitability, you'll end up exactly in the situation Motorola is today," he explained.
"Their best year ever came at the mercy of Motorola's worst year ever. It helps you climb the ladder when the person in front of you is kind of taking steps backward," Reith pointed out.
"Give credit to Samsung for taking the No. 2 position worldwide from Motorola," said Ramon Llamas, an analyst with IDC's Mobile Devices Technology and Trends team. "For the past few years, Samsung's growth kept pace with the market, but in 2007 the company beat the market almost by a factor of four.
"Samsung capitalized on replacement handset opportunities in the U.S. and Europe with a steady stream of mid-range and high-end devices, while Motorola spent much of the year addressing inventory challenges across EMEA and Asia. Now that Motorola is implementing a new handset strategy, it will be interesting to watch the hotly contested No. 2 position in 2008," he added.
A Mighty Fall
An overreliance on the one-time popularity of its Motorola Razr, originally launched in 2005, contributed significantly to Illinois-based handset maker's woes, according to Reith.
"The biggest thing and its obvious is they pretty much road the Razr device into the ground. When they originally launched the Razr, they talked about a platform and device. But what we saw them build on was the device and they kept enhancing the device," he opined.
Had Motorola built up its platform — as Samsung has done with its Ultra line, where each device looks different — its fortunes might be different now. However, it opted to keep building Razrs, eventually dropped to the low-end and started selling the handsets for next to nothing.
"That's where profitability starts to drop," Reith said. "Their next big thing was called the 'Razr 2.' Its got a lot of new functionality, and realistically it wouldn't have been a bad device if it hadn't followed the predecessor. It's like betting a dead horse. In this game of handsets you have to remain innovative and ahead of the technology curve, constantly switching up your portfolio."
Reith expects business to improve for Motorola by the end of the 2008 in part due to the leadership of Greg Brown, the company's new CEO.
"Motorola knows they still have a tough year ahead of them. The rebound for them is going to start to occur at the very end of 2008. They'll start to come back up that ladder. They have new management in place. Changes take time. This year will be kind of flat for Motorola and at the end of the year they'll finally see a little light and I think you'll start to hear them say they have an optimistic outlook for 2009," he said.
The Also-Ran
Sony Ericsson and LG round out the top five handset manufacturers, but their units shipped lagged well behind those of the top three. Sony Ericsson finally crossed the 30 million unit mark for the first time in its history, IDC reported, with the majority of its shipments going to Europe, the Middle East and Africa (EMEA). The joint venture between Sony and Ericsson also made headway in North America, Latin America and Asia/Pacific.
Meanwhile, LG came close to shipping 25 million units but fell short of the mark with 23.7 million units in the fourth quarter. The success of its premium devices in developed markets and cost effectiveness helped LG achieve an incremental improvement in its operating margin. Recently introduced models including the Voyager and Venus in the U.S. and the Viewty in Europe were central to LG's fourth quarter success. However, the "distance" between LG and Sony Ericsson increased by more than 7 million units, offsetting gains the company had made in previous quarters, IDC said.
Rankings in 2008 should remain static, Reith noted.
"My prediction right now is that the vendor rankings for 2008 will be exactly as they are now. The difference between [Motorola] and Sony Ericsson is too far apart, and Sony Ericsson's strategy will keep them a distance from LG. LG doesn't have any plans to scale at the mass that Motorola had in the past and such," he predicted.
Single-Digit Growth Rate in 2008
Growth will slow stay in the single digits in 2008, according to IDC.
"We're looking at pretty good single growth rate moving out to 2011 probably in the range of about 7 percent between '06 and 2011."
However, Llamas told the E-Commerce Times that double-digit growth is not impossible.
"Double-digit growth is still a possibility out there, but we won't be touching the 18 percent to 30 percent kind of numbers that we did before. We're working from a much bigger base now. In order to realize double-digit growth trying to put double digits on a billion units that's another hefty number. That is difficult to do because the growth path is built on getting handsets to brand new users who haven't had a taste of what mobility is like," he explained.
Moving forward, handset manufacturers will have to rely on consumers buying replacements to either keep up with technology or replace a lost or stolen mobile phone.
"That will move a lot slower, but it also means something different for vendors in the sense that rather than give somebody a phone that only makes phone calls, now people look at their phones and say, 'You know what I really want something that can take pictures or has a color screen or maybe it plays music. Maybe I want to graduate to a smartphone," Llamas explained.
Emerging Markets
Smartphones, with their larger price tags, are going to move into emerging markets and be the new wave, giving manufacturers larger margins. In addition, Llamas expects to see U.S. consumers adopt the European trend and begin purchasing multiple lines.
"Let's say you have one for work and you have another for your personal [calls]. Maybe you have a certain phone that's utilitarian for during the week and something fun for the weekend. I see that happening here in the U.S., where people say, 'I'd rather have more than one mobile phone if I'm going to beat it up on the weekend.' Or going on long lengthy trips and they lose it, they will lose nothing," he predicted.
While there are no "must-have" devices set to roll out thus far in 2008, Llamas said the smartphone will continue to have double-digit gains this year.
"As far as something iconic, icons don't come along every day. The Razr did back in '04, the iPhone did in '07. Here we are a year later and I haven't heard of or seen anything. What I would look for is a lot of neat features on the cell phone. Touch-screens, dual-mode phones that are out there that make calls or move data over WiFi. [They're] a pretty big deal and we're pretty optimistic about that," he said.