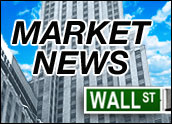 Inflation was nowhere to be found for U.S. shoppers last month as the Consumer Price Index (CPI) actually fell, thanks at least in part to lower gasoline prices.
The CPI dipped one-tenth of a percent, while most forecasts suggested that that it would edge up slightly. With energy stripped out, the core inflation rate was up just one-tenth of a percent, also less than expected.
In a separate report, the government reported that housing starts were up sharply last month, rising 8.3 percent to an annual rate of 1.9 million homes.
Those two pieces of economic data overcame another day of record-high prices for crude oil futures to lift stock markets to their second straight day of gains, albeit far more modest ones.
The Dow climbed 18.28 points on Tuesday to 9,972.83. The Nasdaq gained 12.41 to 1,795.25 and the S&P 500 was higher by about 2 points to 1,081.71.
Meanwhile, the buzz over Googles IPO grew even louder — if thats possible — on Tuesday after the search engine company asked the Securities and Exchange Commission (SEC) to certify its offering.
That clearance, which most expected could come before the close of business on Tuesday, would mean the stock could start trading on the Nasdaq as soon as Wednesday.
Having the stock sale over would be welcome to many involved, probably including Google, which has had to remain largely silent while rumors and speculation flew regarding its IPO.
The chatter on Tuesday surrounded whether Google was getting enough bidders to complete the offering, with some speculating that Google asked for the SEC to act in order to light a fire under potential bidders who were biding their time.