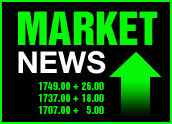 A rare bullish outlook from a major Dow company helped investors look past still-rising oil prices and become buyers in a late-day rally that sent stocks higher across the board.
Heavy equipment maker Catepillar ignited the rally by saying that its 2004 sales would come in above previous forecasts. Catepillar shares were up more than 3 percent, providing a lift for the Dow, though tech stocks saw less of a boost.
At the close, the Dow was up 88.86 points to 10,077.40. The Nasdaq gained 9.99 points, to finish at 1,869.87, and the S&P 500 rose 6.54 points to 1,110.06.
Chinese Expansion
Also helping Blue Chip stocks was the prospect of continued economic expansion in China, with a report released overnight pegging growth at 8 to 9 percent this year. That sparked interest in materials stocks such as Alcoa, which rose more than 4 percent.
The technology sector had a harder time finding good news. In fact, cellular phone maker Motorola announced late in the day that it will eliminate 1,000 jobs in connection with a restructuring brought about by the spinoff of its semiconductor unit. Many of the job cuts are expected to take place at company headquarters near Chicago.
Oil prices continued to rise, but at a much slower pace than in recent days. Oil futures trading in New York were still higher on the day, rising another 24 cents to $49.88, after breaking the $50 barrier earlier in the day.
China's Oil Demand
Crude prices spiked overnight after threats of violence by rebels in Nigeria forced the closure of a major oil pumping station in that country. Meanwhile, supplies in the U.S. remain under pressure from the four-day production hiatus forced upon Gulf of Mexico oil production facilities.
It is widely expected that oil price will resume their climb, however, with one analyst saying today that prices could reach $60 per barrel in the near term.
A continued increase in demand for oil, notably in part from China, is said to be the main cause of the price escalation.