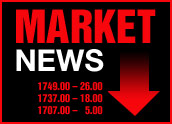 Stock markets dropped sharply today as oil prices hit fresh highs and General Motors issued an outlook well below expectations.
With GM weighing, the Dow was the hardest hit of the major indices, losing 112.03 points, or 1.04 percent, to close at 10,633.07. The blue chip index has lost more than 300 points since making a charge at the 11,000 level early last week.
Weak GM Sales
The Nasdaq lost 19.23 points, or 0.94 percent, to 2,015.75, and the S&P 500 gave up 9.68 points, or 0.81 percent, to 1,188.07.
The session got off to a rocky start when the world's largest automaker said it would lose as much as US$1.50 per share in the first quarter. GM had previously forecast a break-even quarter or even a modest profit, but said sales in North America were weaker than expected and that costs had risen faster than forecast.
The company's shares lost as much as 13 percent on the session, fell to their lowest price level since the early 1990s, and dragged other car makers lower in the process.
Markets moved sharply lower after oil prices spiked $1.41, or 2.5 percent, to a record close of $56.46 per barrel on the New York Mercantile Exchange. Though the closing price shatters earlier records of $55.17, set last October, prices would have to top $90 for oil to be as costly in real dollar terms as it was in the early 1990s.
OPEC Action
Oil prices rose despite an agreement by OPEC to open the spigot further by boosting production by 2 percent in coming months. OPEC is eager to keep prices from getting high enough to sharply curtail demand. That move was offset by government data showing that U.S. oil supplies dropped more than expected last week.
The impacts of the oil surge are widespread. The price jump was cited as a main reason — along with a weak U.S. dollar — that the country's current account balance, the broadest measure of overseas trade and transactions, grew to record levels last quarter.