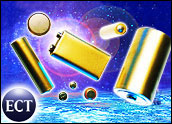 No matter how powerful notebook computers get, sooner or later all systems are limited by how long their battery can endure. Indeed, battery life always has been a major bottleneck for notebooks, and it seems the bigger the computer and the more features it has, the shorter its battery life is.
This tug-of-war leaves computer buyers in a tough spot. If they want more bells and whistles, they must pay for it in reduced battery life, and if they choose a notebook that can stay alive during a long flight, they may have to buy a stripped-down machine.
Does the future look brighter for batteries, or will users continue to endure darkened screens and reduced productivity?
Assault on Batteries
When computer manufacturers build notebooks, battery life considerationsare frequently part of the mix, but often the most important issue in PC makers' eyes is how to pack the notebook with features.
For example, Alienware has just released a mobile computer for gamers, and the company was heavily focused on making the machine as fast and powerful as its popular desktop computers. Giving the notebook more battery life and reducing its features did not seem to be a logical strategy, considering the intended audience.
Kevin Wasielewski, Alienware's vice president of marketing, told the E-Commerce Times that the company wanted to produce a machine that was reliable and performance-intensive. Its battery life is fairly standard in comparison with other notebooks, and the company is fine with that.
"Where we try to innovate is on the look-and-feel level," Wasielewski said, "and on the integration level. Those are what our customers care about."
Work in Progress
Although gamers may not care too much about battery life, other computer buyers, especially frequent travelers, are connoisseurs of grumbling about mediocre or poor on-the-go power. Soon, however, their frustrations may be a thing of the past.
The Institute of Electrical and Electronics Engineers (IEEE) has been studying the problem for some time and working on ways to lessen the features vs. battery life struggle. Recently, the group released a draft of a new standard for mobile computer batteries that takes a systems approach. Its goal: to improve reliability of the next generation of rechargeable lithium-ion and lithium-ion polymer batteries.
That standard came out of a working group comprising some of the heaviest hitters in the tech sector, including Dell, Hewlett-Packard, IBM, Motorola, Panasonic and Sony.
Jeff Layton, chairman of the working group, told the E-Commerce Times that the standard specifies minimum guidelines for the design, manufacture and testing of battery cells and packs. It also aims to improve battery reliability.
"It seeks to improve user experience by addressing the entire system from individual cells to the overall device," he said.
The standard is slated for completion by the first half of 2004. If it is adopted by those in the working group and other companies, it could mean brighter days ahead for everyone who yearns for longer battery life.
Sci-Fi Alternatives
Rather than trying to extend battery life according to the traditional energy model, some companies are trying to go in entirely new directions.
For example, researchers at Saint Louis University recently announced they had developed a biofuel cell, which runs off alcohol and enzymes, that could take the place of current notebook batteries. They cautioned that consumer application of their findings is at least a few years away, so notebook owners need not run out to the liquor store just yet.
At technology startup Cymbet, developers are working on a solid-state lithium rechargeable battery that is thin and flexible. Such a battery could be inserted into a variety of devices, from pacemakers to PDAs to notebook computers.
"We can make them as small as a pencil point or as large as a table," Cymbet CFO Brian Shiffman told the E-Commerce Times. "Each cell of a battery is about the thickness of a sheet of paper, and we can make them on flexible materials, so they can take a forming shape to a device."
These super-thin batteries can be twisted and shaped depending on need. They also have up to 70,000 recharge cycles with minimal loss of capacity, making them ideal for a wide range of uses.
Untapped Market
Shiffman said he thinks the market for innovative batteries is untapped and is driven by widespread aversion to the limited life of the current battery selection. However, he believes that when technologies such as Cymbet's hit the general marketplace, things will change.
"Before I came to Cymbet, I was a consultant, and I'd seen hundreds of companies looking for an honest appraisal of their chances at success," he said. "Most of the time I told them to go home. But with Cymbet, there's such an obvious and huge market opportunity that I think we'll go far tapping into that market."