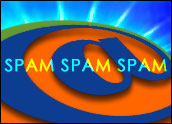 In the never-ending war against spam, the good guys say they have chalked up one significant win: the arrest of 27-year-old Robert Alan Soloway, alleged to be the world's most prolific spammer.
Soloway has reportedly been using an army of zombie computers to send out huge volumes of unwanted e-mails. He has been indicted by a federal grand jury in Seattle on 35 counts of mail fraud, wire fraud, e-mail fraud, aggravated identity theft and money laundering.
The indictment is significant not only because the subject is notorious, but also because federal prosecutors used identify theft statutes as the basis for some of the charges. In addition to their potential to add significant time to Soloway's sentence, if convicted, the statutes give prosecutors the opportunity to extend the case beyond the provisions of the CAN-SPAM Act of 2003.
Spam King
This is not the first time Soloway been brought before a court. Microsoft sued him in 2005, winning a US$7 million judgment. He has also been targeted by theSpamhaus Project, a global antispam organization. Indeed, his nefarious activities have been so far-reaching that prosecutors and antivirus vendors have dubbed him the "Spam King."
The indictment followed a years-long joint investigation by the Washington State Attorney General's Office, the Federal Bureau of Investigation (FBI), the Federal Trade Commission (FTC), the Internal Revenue Service Department of Criminal Investigations (IRS-CI), and the U.S. Postal Inspection Service (USPIS).
"Soloway has been a long term nuisance on the Internet," Spamhaus says on its Web site. "He has been sending enormous amounts of spam for years, filling mailboxes and mail servers with unsolicited and unwanted junk e-mail.
"In addition, he has fraudulently marketed his spam services to others as legitimate 'opt-in' services when they were anything but that, duping innocent users and then failing to provide promised customer support or refunds. Because Soloway spammed through hijacked computers and open proxies, he has repeatedly violated both the Computer Abuse and Fraud Act of 1984 and the CAN-SPAM law of 2003."
Soloway is currently in detention pending a hearing next week.
Individual Responsibility
Whether Soloway's eventual conviction will markedly reduce the level of spam clogging in-boxes remains to be seen, Ron O'Brien, security consultant with Sophos, told the E-Commerce Times.
"Hopefully, his arrest will be a deterrent — but, unfortunately, new cases and opportunities continue to arise," he remarked.
The only sure way to make a dent in spam is for computer users to take responsibility for operating and maintaining their PCs, said O'Brien.