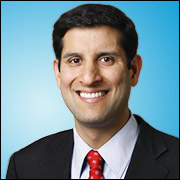 Salesforce.com has snagged a marquee name for its executive ranks: the former chief information officer of the United States, Vivek Kundra.
Kundra, who left his post with the Obama administration last year, is joining Salesforce.com as executive vice president of emerging markets. Prior to serving as the federal government's first CIO, Kundra held similar positions with the District of Columbia's government and the Commonwealth of Virginia.
Among his most significant achievements during his tenure with the federal government — certainly from Salesforce.com's perspective — was his progress in moving government computing to the cloud. As Salesforce.com noted when announcing his appointment, Kundra was an early evangelist of the benefits of cloud computing in the public sector.
"I can't think of a better fit for Salesforce.com," Jeffrey M. Kaplan, managing director of THINKstrategies, told the E-Commerce Times.
Salesforce.com did not respond to our request for further details.
Cloudy Position
Kundra's role at Salesforce.com is not yet clear. Certainly, he was recruited at least in part for his government contacts. Government IT spending is a significant growth area for companies, even in these fiscally austere times.
"It is an area of intense competition among the cloud computing firms and promises to be even more so this year, especially as the government looks to control costs as much as possible," Kaplan said.
Salesforce.com has already made a mark in this space. Last summer, for example, it inked a US$28.1 million, five-year transaction with the General Services Administration. The public cloud license covers Salesforce.com's CRM modules, the Force.com platform, and Chatter collaboration suite for GSA's 17,000 employees.
It's likely Kundra's role at Salesforce.com will go beyond prospecting for government contracts, though, according to Kaplan.
"Because of his extensive experience and skills, I can see him carving out whatever role he wants at Salesforce.com, within certain parameters, of course," he said. "He is a bright guy and understands the broad implications of the cloud, and has demonstrated his ability to move a large entity like a government into the cloud."
Geographic Expansion
Kundra's title — executive vice president of emerging markets — might provide a clue, Kaplan suggested.
"Because it is tech, you tend to think emerging technologies, such as mobile. But it could also mean emerging markets as in geography," he said.
Kundra has top-notch experience as a CIO implementing cloud solutions, but he also understands the international marketplace and has a lot of global connections, Nucleus Research Vice President Rebecca Wettemann the E-Commerce Times.
Kundra also counts as his bona fides his selection by the World Economic Forum as a 2011 Young Global Leader. He is also a member of the Council on Foreign Relations.
"Salesforce.com is always looking to expand its executive team with people who intuitively understand the cloud computing market and are familiar with the enterprise software space," Wettemann noted. However, the company tries to deepen its executive bench in other areas as well.
Kundra could help Salesforce.com push out more mobile initiatives, Wettemann speculated. "He will lead the company's emerging markets strategy. Obviously, mobile is an emerging market of great significant to every company."