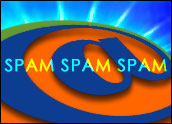 Two men have been successfully prosecuted for sending out millions of unsolicited e-mail messages promoting pornographic Web sites, and reaping millions of dollars as a result.
Jeffrey A. Kilbride of Venice, Calif., was sentenced to six years, and James R. Schaffer of Paradise Valley, Ariz., was sentenced to five years and three months, to be served in Arizona. They were prosecuted under the federal CAN-SPAM act.
Between Jan. 20, 2004, and June 9, 2004, the two bombarded AOL members with their spam, prompting more than 600,000 complaints.
They also engaged in conspiracy, money laundering, fraud, and transportation of obscene materials. U.S. District Judge David Campbell sentenced the two after a three-week trial, giving Kilbride a stiffer penalty for attempting to keep a government witness from testifying.
The spammers covered their tracks successfully for a while, by using servers based in Amsterdam and logging in remotely to make it look as though the messages originated from outside the United States. They deposited their funds in offshore bank accounts.
In addition to their jail terms, Kilbride and Schaffer were fined US$100,000 and ordered to pay damages to AOL of $77,500. Their million-dollar revenues — at least $1.13 million according to some accounts — have been seized.
Partners-in-crime Jennifer Clason of Tempe, Ariz., Andrew Ellifson of Scottsdale, Ariz., and Kirk Rogers of Manhattan Beach, Calif., all pleaded guilty to the charges and turned state's evidence against Kilbride and Schaffer.
More Arrests, New Strategies
The arrests and successful prosecution illustrate the progress law enforcement agencies are making, both in the United States and across borders, said Graham Cluley, senior technology consultant for Sophos.
"A few years ago, international cooperation and prosecution efforts were not nearly as strong," he told the E-Commerce Times. "Now, we are hearing more and more stories about the arrest of spammers — this is just one more to add to the list."
There have been other high-profile arrests and prosecutions of notorious spammers. Earlier this year, 27-year old Robert Alan Soloway, alleged to be the world's most prolific spammer, was arrested for allegedly harnessing an army of zombie computers to send out huge volumes of unwanted e-mails.
A federal grand jury in Seattle indicted him on 35 counts of mail fraud, wire fraud, e-mail fraud, aggravated identity theft and money laundering, as well as violation of the CAN-SPAM Act.
In addition to law enforcement agencies, companies are becoming savvier about going after spammers. Earlier this year, Park City, Utah-based Unspam Technologies sued anonymous spammers as part of a worldwide effort to catch people who harvest e-mail addresses from Web sites and then use them to pitch products or steal identities.
That marked the first attempt to go after the middle man — the spam supply chain — as opposed to the actual spammers. That lawsuit was also filed under the CAN-SPAM law.
Practical Effect
Still, it's unlikely that sending a couple of spammers to prison will have much of an impact on the overall problem. "There will still be spam arriving in people's in-boxes tomorrow," Cluley said.
The impact of Kilbride and Schaffe's jail terms and stiff financial penalty will be limited, at best, said Paul Henry, vice president of technology evangelism with Secure Computing. The balance between active spammers and prosecutors remains tilted in favor of the bad guys.
"There is too much activity out there, and too many financial incentives to continue," he told the E-Commerce Times. "Do I think a spammer will get up today, hear the news about the sentence and decide it is time to stop? Not one will."