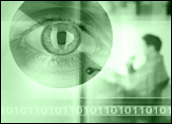 Three major Internet service providers have promised Congress that they do not monitor their customers' activities online. However — in an argument worthy of the political venue in which it was made — executives from these companies went on to equivocate: not that they do monitor users — at least not to a gratuitous level. If they did, though, they were under no obligation to say so. However, if they should decide to monitor customers in the future, they would promise to adhere to certain rules of the road — set by themselves. In other words, they told the legislators: There's no need for the federal government to step in and regulate, as we will do it for you.
Offering to self-regulate a business practice as Congress prepares to hand down its own rules is a time-honored and often successful practice on the part of businesses throughout every sector in the U.S. economy. The Internet is proving to be no exception; indeed, as Web technologies continue to evolve and infiltrate consumers' lives in unexpected ways, it is fair to assume that Thursday's testimony before the Senate subcommittee will be repeated on a regular basis.
Executives from AT&T, Verizon and Time Warner spoke at a hearing on whether ISPs track their customers' usage on the Internet — and then sell that information to advertisers. It is a practice called "behavioral targeting," and it has become the focus of people worried about consumer privacy.
Mounting Concerns
For the most part, however, the regulatory eye has fallen on the other end of the equation: Advertising companies have honed these practices to a fine, albeit little-discussed, art.
The ISPs' role came under scrutiny earlier this year, when reports surfaced that ISP Charter Communications was considering doing business with NebuAd, which monitors online users for ad-targeting. The rumored deal eventually fell apart, but it caught the attention of Congress.
Now, the four companies — AT&T, Verizon, Time Warner and Charter — are offering to form an industry coalition to craft best practices. These would center primarily on notifying consumers of how the data collected about them would be used.
Based on the testimony, it appears the ISPs are willing to adopt an opt-in notification strategy, typically considered anathema for marketers.
"Any technology that is used to track and collect consumer online behavior … for the purposes of targeted advertising — regardless of what company is doing the collecting — should only be used with the customer's knowledge and consent in accordance with the law, a company's specific privacy policies, and the privacy principles," said Tom Tauke, Verizon executive vice president of public affairs, policy and communications.
Meaningful Consent
Such promises are fine, but a more detailed explanation of what the ISPs consider to be 'opt in' may be necessary to calm concerns.
"Would users get a pop-up screen window with a 3,000-word text that they just click on to get out of the way?" wondered Mark Smith, COO of AnchorFree. "Or will they truly be apprised about what happens with their information and allowed numerous places to opt out if they want?"
What he has heard so far leaves him with little confidence that the plan being proposed would look anything like the latter, Smith told the E-Commerce Times.
"I guarantee you that by the time the lawyers get a hold of it, we will be lucky if it is only 3,000 words of legalese," he quipped.