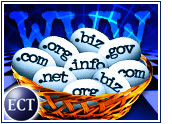 When the mainstream first discovered the newly spun Web, a new breed of spider emerged: the cybersquatter, an individual or company that registered many domainnames, most of them well-known brands, and resold them at high prices.
With some asking prices hitting seven figures at the height of the dot-com boom, companies began to cry for justice. Fortunately, someone listened. Rigorous legislation and dramatic efforts by the Internet Corporation for Assigned Names and Numbers (ICANN) and the World Intellectual Property Organization (WIPO) curbed much of the reviled practice, but did not stop cybersquatting completely.
Although cybersquatters' numbers have diminished — along with their profits — domain-name vultures are still in the wild, and companies that hope to maintain their good name on the Net must stay vigilant and organized to keep them at bay. What are some of the best strategies to stop cybersquatters in their tracks?
Ousting the Squatters
There are so many registrars on the Web that it is small wonder ICANN keeps busy just making sure transactions are legitimate. In 1999, the organization instituted the Uniform Domain Name Dispute Resolution Policy, and that same year also saw the passage of the Anti-Cybersquatting Act.
ICANN spokesperson Mary Hewitt told the E-Commerce Times that these initiatives helped slash the number of cybersquatters. However, they are not without problems.
"The Anti-Cybersquatting Act is focused only in the United States," she said. "So, if you have a problem with someone in Korea who has registered your name, it's going to be very difficult to fight that."
Defensive Blocks
Register.com spokesperson Chris Patmore told the E-Commerce Times that large corporations in particular are targeted because they have so many brands that vigilance is required to keep them all properly registered.
To stay ahead of cybersquatters, companies sometimes even register misspellings of their name or get creative, as when Verizon snapped up verizonsucks.com before it was claimed by someone with less than honorable intentions.
"It's important to register defensively," Patmore said. "It's also crucial to register in places where a company wants to start trading, but also believes [it will] be at risk from cybersquatting, like in Japan, for example."
Staying Up-to-Date
Even if a company is not large, allowing domain name registrations to lapse is like sending out a beacon to attract cybersquatters, said Francis Gurry, a spokesperson for the WIPO.
He told the E-Commerce Times that certain kinds of software exist that monitor which domains have suddenly become available, then register them immediately if they are well known.
"There was a site in Texas devoted to providing information about family and friends of people in the Navy," he said. "It was navydallas.com, and as soon as it lapsed, it got snapped up by a porn site. Well, there are 80,000 people associated with that site, many of whom had bumper stickers with the URL on them."
Navydallas.com is a common example of what can happen as soon as a lapse occurs. The solution, Gurry said, is as simple as it is obvious: Companies should stay on top of their domain name expiration dates and re-register immediately.
If they do not do so, they could face expensive litigation that might or might not grant them their domain name back.
Second Chances
Companies that do neglect to re-register still may have an opportunity to redeem their domain names without going to court. ICANN has introduced a grace period for deleted domains after fielding a tide of complaints from companies that got hit by cybersquatters.
ICANN spokesperson Hewitt noted that the administrative costs for companies that want to take advantage of the grace period are continually being lowered. When the program started, it cost about US$100 for a company to snatch its name back. Now, the cost is $40, and it soon will fall to a paltry $6.
"It provides a cushion," she said. "Most registrars will give you some warning about when the domain name will expire, but some will just throw it back into the abyss as soon as it expires. This is a way to have more time."
She added, "The best thing, though, is just [not to] let it expire."
Common Sense
Defensive registering and vigilant monitoring of expiration dates may seem like obvious counters to cybersquatting, but some companies are still lax in applying these tactics to fend off the bad guys.
As IDC analyst Jonathan Gaw told the E-Commerce Times, "Let's face it: If you have a cybersquatting problem, chances are you're just not paying attention."
In the mid-1990s, the Internet gold-rush mentality gave rise to cybersquatters, but with legislation and dispute resolution in place, Gaw said, companies should have wised up by now.
"Nowadays, if you're starting a new company or introducing a new product, you register the domain before you even announce the name," he said. "That's just part of business now."