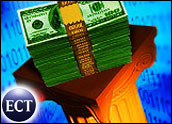 Underscoring the potential it sees in positioning computers as entertainment devices, Intel has announced it will establish a venture capital fund to back startups that develop home entertainment hardware and software.
The chipmaker said its venture wing, Intel Capital, will oversee the Digital Home Fund, which will have a US$200 million bankroll.
News of the fund comes as Intel president Paul Otellini prepares to address the Consumer Electronics Show in Las Vegas on Thursday.
Otellini is expected to unveil Intel chips for large-screen TVs and other entertainment devices, joining a parade of companies — including Hewlett-Packard, Microsoft and Dell — whose bread-and-butter previously has been making enterprise technology but that now are eager to take a bite out of the entertainment market.
First and Goal
Two firms working in the home entertainment field — BridgCo, which makes chips for media adapters, and Musicmatch, whose software helps organize digital audio tracks — already have been funded by Intel Capital but now will become part of the Digital Home Fund portfolio.
The fund is an important development because it recognizes that the best ideas often come from startups that are not yet on the public's radar screen. Moreover, the high-profile nature of the fund likely will give Intel an early look at emerging technologies, IDC analyst Bob O'Donnell said.
Getting Real
Even though the $200 million allocated to the new fund represents just a fraction of Intel's cash reserves, "this leaves little doubt as to how seriously they take this opportunity," O'Donnell told the E-Commerce Times. "They have hinted in the past they saw this convergence coming, but this year it's clear that it's no longer just a future trend, but something that consumers want to see happen quickly."
The fund also may boost some startups whose approach fell between the cracks at other venture capital firms. "A lot of venture capitalists may not feel comfortable straddling between computer hardware or software and what's happening in the living room," O'Donnell said. "They've always been treated as two separate worlds."
Spreading the Wealth
Intel has created other specialty funds within its venture capital wing in the past, most recently saying it would dedicate $150 million of its $500 million Communications Fund to back firms working on technology to enhance WiFi communications.
The company has become increasingly aggressive with its investments as it has enjoyed a measured but steady recovery from the low point of the tech recession. Last fall, it said it would sink $450 million into memory chip maker Micron and also announced plans to spend $375 million to build and run an assembly plant in mainland China.
Indeed, Morningstar.com analyst Jeremy Lopez told the E-Commerce Times that Intel has remained an active investor in even highly speculative startups because it doesn't need to make a direct return on its investment in all cases.
"They'd love for each company they back to go public, of course," Lopez said. "But if they're just reasonably successful and they create Intel-friendly technology that is adopted into the marketplace, that's going to create enhanced demand for Intel's chips. They're really looking to guarantee their own future and smooth out some of the ups and downs that come with the chip industry."
Last month, Santa Clara, California-based Intel said it was on track to hit the high end of its revenue and profit targets for the fourth quarter, which ended December 27th. The company is scheduled to report earnings on January 14th.