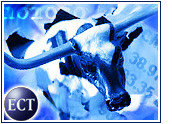 Intel reported strong earnings Tuesday that beat Wall Street forecasts and even outpaced the company's own raised expectations as sales grew in almost all product categories.
In an announcement that seemed tailored to further boost optimism about the tech sector, Intel said it earned US$1.7 billion, more than twice what it made a year ago, as revenues grew to $7.8 billion, an increase of 20 percent from the third quarter of 2002.
Intel CEO Craig Barrett said his company saw record sales levels in several key business areas, including microprocessors and chipsets, and added that the quarter saw dividends paid on investments made during the lengthy and deep downturn of 2001 and 2002.
"Our resolve to invest aggressively during the downturn is paying off," Barrett said.
In a conference call, CFO Andy Bryant said the results outstripped the normal seasonal upticks Intel often sees in the course of a year.
Slow and Steady
IDC analyst Shane Rau told the E-Commerce Times that Intel's momentum has been building for some time and reflects strengthening demand for personal computers as well as other electronic devices. He noted that Intel's decision to break out sales growth by specific product appears to be an effort to underscore that its growth this quarter was not due to a handful of product lines carrying the entire business.
"The growth appears more organic, and that could be very good news for the tech sector," Rau said. "It's starting to sound like customers of Intel are anticipating stronger demand. Perhaps they're even seeing that demand already."
A Look Ahead
Intel said it expects fourth-quarter revenue to be as high as $8.7 billion, but the company cautioned that continued uncertainty in the worldwide economy makes accurate predictions difficult. Rau noted that Intel often aims for conservative estimates.
The chip giant noted that its Intel Architecture line set a record for units sold and that the average price actually inched up slightly. Motherboard units also set a record sales pace, while other product lines that had been lagging in recent quarters, including flash memory and Ethernet connectivity products, posted increases.
Sales were buoyed, Intel said, by new products released for the computer gaming and home entertainment niches as well as upgrades to its Centrino line of wireless notebook chips.
Rising Tide
Shares of Intel stock were trading at markedly higher levels Wednesday, up more than 3 percent to $32.11, setting a new 52-week high.
Intel's announcement came less than a week after Yahoo posted strong earnings of its own, driven by stronger online ad sales. Those results instantly buoyed many tech stocks.