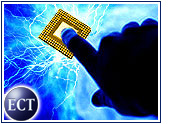 Making a strategic investment designed to ensure its access to a steady supply of basic memory chips at stable prices, Intel has agreed to buy a 5 percent stake in Micron Technology.
The company said it spent US$450 million to buy 5.3 percent of all outstanding shares of Micron stock. The investment marks the second time Intel has made a major equity investment in Micron, though it sold off the first stake over time to raise cash.
Intel used to make its own memory chips but exited the business several years ago in favor of more high-performance processors.
"The availability of high-performance memory is critical as we continue to develop advanced microprocessors and communications components," Intel CEO Craig Barrett said in a statement. "Intel is making this investment in Micron to help enable such high-end memory capabilities as DDR2 to meet the requirements of our future-generation products."
In Through the Output
Micron said it will use the cash infusion from Intel to beef up its manufacturing capacity and immediately increase its output of memory chips, focusing especially on 300mm manufacturing technology and DDR2 memory production.
Many of Intel's existing chipsets include Micron technology. The companies also said they plan to collaborate on design and development of future generations of memory technologies.
The investment is a well-timed boost for Micron, which reported its eleventh straight quarterly loss this week, a string attributed to cost-slashing measures by Micron's competitors. Memory chips are notoriously cyclical in nature, with prices often fluctuating wildly depending on demand, a rollercoaster ride that Intel hopes to smooth with its connection to Micron, one of the few remaining U.S.-based makers of memory chips.
Money Talks
Intel has been putting its sizeable cash reserves to use in recent months, a move that some analysts view as a sign of internal optimism at the company.
However, many of the moves are more long-term in nature, such as a decision to cosponsor a new testing and assembly plant in mainland China. Intel has said it is ready to invest up to $375 million to help get the plant up and running at full capacity in the next three years.
Reading Tea Leaves
"Everyone wants to look at what Intel's doing and see evidence that a recovery is already under way and that the company is scrambling to stay ahead of the curve," IDC chip analyst Shane Rau told the E-Commerce Times.
In fact, Intel recently caused a stir by announcing stronger-than-expected earnings, only to quickly send executives forward to downplay the results as anything but proof of a recovery.
"A lot of what they're doing has long-range implications," Rau said. "They're trying to lay the groundwork for the next 15 to 20 years, not just the next two or three."