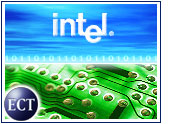 Intel has said it will combine two unprofitable business groups in its communications industry segment in a bid to repair one of the few glaring flaws in the company's performance in recent quarters.
Specifically, the chipmaker plans to meld its wireless communications business with the Intel Communications Group. The move is intended to help Intel guard its position in the market for mobile phone and similar chips while laying the groundwork for future maneuvers.
Last week, Intel said it would take a US$600 million charge related to changes in the groups. In addition, the head of the wireless group, Ron Smith, will retire early next year after the transition is under way. Intel did not say whether layoffs are planned as a result of the business shifts.
CEO Craig Barrett said the move will allow Intel to better integrate its product planning into the communications line and also reflects the convergence of wireless and wire-line communications.
"Consolidation gives us better product planning and customer focus in these strategically critical areas," Barrett said in a statement.
Red Ink
While Intel's main computer processor business managed to stay profitable even when the tech downturn hit bottom, the company's communications lines, which Intel expanded into by buying several companies, have bled red ink, racking up a total loss of nearly $2 billion in the last two years alone.
Intel has made plans to begin writing off some of the losses tied to investments made at the peak of the high-tech boom. For example, the company's fourth-quarter earnings will include an impairment charge of $600 million tied to its purchase of DSP Communications in 1998, chief financial officer Andy Bryant said in a conference call last week. Intel paid $1.6 billion for DSP in 1998.
Once and Future King
Although Intel once saw diversification as a way of helping to minimize the sometimes-brutal cycles that can hit the semiconductor industry, that strategy has yet to pay off. Instead, the company's desktop, enterprise and notebook lines are carrying it toward a strong 2003 that has helped buoy confidence about a tech sector recovery.
"Intel has muddled along in the cell phone space," Gartner analyst Martin Reynolds told the E-Commerce Times. "Without a big customer win along the way, it probably became impossible for them to justify keeping the unit out there by itself, where it could draw attention to its shortcomings every time Intel reported earnings."
Wireless Goldmine
Although its cell phone business has fizzled, Intel is poised to become the standard bearer in making wireless-capable chips for notebook computers and other devices. Its Centrino chip has been a best-seller since its release earlier this year.
Barrett said the latest consolidation indicates that Intel sees more opportunities in wireless computing than in simple wireless communications.
"We see wireless local area networking and wide area cellular technologies coming together," he said.