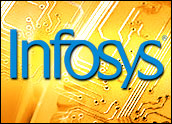 Outsourcing phenom Infosys Technologies posted mixed third quarter results, causing its stock valuations to drop by some 5.6 percent midday Friday. It also reignited speculation that the Indian-based conglomerate's fortunes may be too closely linked to the U.S. economy.
For the quarter, Infosys posted earnings of 52 US cents a share, topping analyst estimates by a penny. Revenues, though, rose 32 percent from year ago to $1.08 billion, falling short of estimates of $1.09 billion.
Trading was down $2.40, or 5.60 percent, to $40.44 a share, as a result.
To be sure, the quarterly earnings gave Infosys shareholders much to cheer about. Net profit rose 25.2 percent to $314.28 million in Q3, which ended December 31, from the same period a year earlier. The firm also added 47 new clients and increased fees.
No Clear Guidance
Infosys shares fell not only because of the quarterly results, opined Fred Ruffy, analyst with the investor education firm Optionetics, but also because the company failed to provide clear guidance for 2008 — especially in light of the U.S. economy's growing difficulties and Infosys' close ties to its fortunes.
Indian firms, of course, have become the bedrock of the global outsourcing supply chain, and U.S. firms are their chief customers. As U.S. companies scale back spending, outsourcing providers likely will be among those feeling the pinch.
"Chief Executive Kris Gopalakrishnan noted that greater clarity about 2008 technology spending in the United States will probably emerge later this month or in early February," Ruffy told TechNewsWorld. "As of now, Infosys sees 2008 earnings of $1.98 on $4.17 to $4.18 billion in revenues, which was also in line with Wall Street analyst forecasts."
A Rough Year
Friday's decline comes after a rough year for Infosys and other Indian software services companies, Ruffy noted. Infosys' stock, for instance, "hit a low of $38.60 in November amid fears of a slowdown in information technology spending, particularly in the U.S. Concerns about the appreciation of the rupee and the subsequent impact on earnings have also weighed on the share price."
The latest earnings release did little to allay those concerns in the short term, he continued. "Instead, the in-line guidance for the fourth quarter and ambiguous outlook for 2008, particularly with respect to the U.S. market, seemed to cloud matters even further."
Tata Consultancy Services and Wipro might help clarify the outlook for the Indian outsourcing community a bit, Ruffy concluded, as both companies are expected to release results in the next few days.