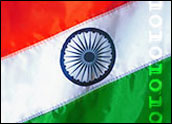 The Indian government has been unable to intercept communications carried over BlackBerry devices despite an interim agreement on data sharing that kept Research In Motion's service alive after a threatened August outage, according to a report published Friday in the Economic Times, an Indian news site.
The development threatens to once again shut down access to secure e-mail and messaging services for BlackBerry users living in and traveling through India.
Latest Report
The Indian Department of Telecommunications in August gave Research In Motion, the company behind the BlackBerry, until Oct. 31 to satisfy its demands to provide access to encrypted services the Indian government fears could be used to plan terrorist attacks and other criminal activities.
Neither RIM nor the Indian government has explained exactly how the test solution worked. Earlier this month, reports from India indicated that efforts to monitor BlackBerry's instant messaging services were working, but the Economic Times report indicates that was apparently incorrect.
RIM Response
RIM says it is continuing to work with India.
"There unfortunately continues to be a lot of contradictory, misleading and inaccurate information circulating on the topic of lawful access matters in India," reads a statement issued by RIM. "Although the details of any regulatory discussions between RIM and the government of India are confidential, RIM can confirm that discussions continue to be constructive and RIM remains optimistic that a positive outcome can be achieved. RIM also confirms that it continues to approach lawful access requirements in India within the framework of the core principles that were publicly communicated by RIM on Aug. 12."
Those principals limited RIM's willingness to cooperate to schemes that are strictly limited in scope, don't intrude more on BlackBerry customers than on customers of other services, don't require changes to the security architecture for enterprise server customers and don't involve special deals for individual countries.
Efforts to locate a spokesperson for the Indian telecommunications agency were not successful.
Between a Rock and a Hard Place
The stakes are high for RIM. Although the company posted a record quarter, analysts have downgraded RIM stock on fears that it will be shut out of growing markets such as India, or lose its key competitive advantage — encrypted communications that not even RIM can access.
"RIM is between a rock and a hard place," Rob Enderle, principal analyst for the Enderle Group, told the E-Commerce Times. "If they do what India wants they will bleed customers. If they don't, they lose India — one of the fastest-growing markets in the world. And India is hardly alone in this."
"But losing a competitive advantage is vastly better than being locked out of much of the world's market, so while it is an ugly choice, RIM likely will eventually have to capitulate," he said.
ABI Research analyst Jeff Orr isn't so sure.
"I don't know what the outcome is going to be," he told the E-Commerce Times. "I don't think RIM is necessarily going to back down from their stance."
India Faces Challenges, Too
The demand for access to encrypted communications has implications on both sides, Orr said.
It would rob RIM of a key competitive advantage and might cause confusion for customers unsure whether their communications on a BlackBerry device are encrypted or not.
"The impacts are less so today," he said. "I think it's more about the potential impact it could have more long term."
For India, the move could complicate international commerce for the nation's growing economy. Businesses might think twice about doing business in India if they can't be assured of confidential communication, he said.