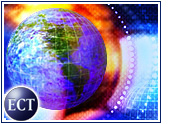 IBM (NYSE: IBM) announced Tuesday a new version of its WebSphere e-commerce software, which is intended to lower the financial and communication hurdles of international e-commerce sales.
The updated software, which will be available in 10 languages by the end of March, will include region-specific sales tax and shipping rules, customized product catalogs and localized payment methods and pricing, IBM said.
The new version of WebSphere will let companies manage pages written in multiple languages from a single e-commerce site, and will let users switch back and forth between different languages, according to Kevin Doyle, product marketing manager for IBM's WebSphere Commerce Suite.
Data also will be displayed differently, depending on the user's culture. Doyle said customers and buyers "will most likely have an expectation about how certain information should be displayed. A decimal point may be used for certain currencies and a comma for others."
Real-Time Translation
WebSphere also can display prices in multiple currencies, and companies can customize their applications to provide currency conversion dynamically or statically, IBM said.
This is not IBM's first foray into the realm of multiculturalism. Earlier this month, the company unveiled its WebSphere Translation Server, which is available as a plug-in for the WebSphere Application Server. The Translation Server can convert Web pages, e-mail, text documents and chat transcripts into multiple languages in real-time.
The latest version of the WebSphere suite also offers enhanced features for mobile commerce — including notification messages, automatic content selection and customized shopping flow — that are tailored to individual devices.
Going After B2B
IBM said the software's new features and functionality meet the needs of the three major markets for e-commerce — business-to-business (B2B), business-to-consumer (B2C) and e-marketplaces.
Big Blue said it is especially hoping to capture a large chunk of the B2B market.
"For a B2B supplier, imagine the value of alerting your buyer or distributor — who's on some kind of replenishment contract — that your stock levels are below what you expected," Doyle said.
Not Cheap, But Crucial
Although IBM's latest offering does not come cheap — the basic version costs US$9,000 per processor and the professional version costs $45,000 per processor — several recent reports have highlighted the importance of going global.
A study released earlier this month by Jupiter Research found that "even though only a quarter of the global Internet population will reside in the United States by 2005, only one third of American online businesses are targeting global markets."
Another report issued in July by Forrester Research warned that U.S. companies will be left behind if they fail to recognize the global nature of the New Economy, particularly the need for multilingual Web sites.
Notably, Forrester predicted that by 2003, a set of Web-based globalization software and services would emerge and diminish reliance on traditional translation services offered by local companies.
Taking on Higher Education
In related news, IBM announced Tuesday that it was partnering with HigherMarkets, a provider of institutional e-commerce solutions, to deliver e-business solutions and services to the higher education market.
Under the terms of the preferred provider agreement, IBM consultants will work with colleges and universities to integrate San Francisco-based HigherMarkets' e-procurement applications with existing systems. IBM also will provide training, process reengineering and systems integration services.