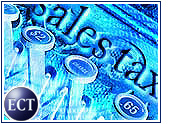 IBM (NYSE: IBM) announced Tuesday that it is partnering with e-government technology company EzGov to develop and market e-commerce services for local governments.
The companies hope that the arrangement will help them cash in on the emerging e-government market.
Ed Trimble, president and CEO of Atlanta, Georgia-based EzGov, said that the two companies intend "to meet the needs of increasingly resource-challenged local governments" throughout the United States.
Although IBM and EzGov have been working together since June, EzGov spokesperson Nicole Hockin told the E-Commerce Times that the latest agreement is focused on serving county and municipal governments.
Fines and Taxes
Big Blue and EzGov said they will offer local governments a comprehensive package that includes IBM hardware and middleware and EzGov e-government software.
EzGov's software provides transactional capability for a variety of government functions, including the collection of parking fines, property taxes and utility bills, the companies said.
Hockin said that governments usually have specific accessibility and security requirements. According to Hockin, IBM consultants will be available to advise government clients on how to integrate legacy systems with the IBM/EzGov offering.
Citizen Demand
Many analysts agree that there is a growing need for local government entities to have e-commerce capabilities. A recent study of 1,813 U.S. government Web sites by Brown University concluded that "government at all levels is not making full and effective use of commonly available information technology."
Said Hockin: "Citizens accustomed to buying their Christmas presents online are starting to demand this from their local governments."
Seventy-eight percent of the government sites surveyed by Brown offered no online services. Instead, their Web sites were informational only. Additionally, only 53 of the Web sites surveyed, or 3 percent, accepted credit cards for the services they offered.
Coming Soon
Buttressing the Brown study's contention that "e-government is still in its early stages," there are signs that e-government will soon become commonplace.
A report issued in August by Forrester Research predicted that that government entities will collect 15 percent, or US$602 billion, in fees and taxes online by 2006, despite funding struggles and bureaucratic inertia.
Forrester also found that more than 14,000 e-government services will be available online in the U.S. by 2006.
Research firm Gartner Group predicted that spending for state and local e-government services will exceed $1.1 billion in 2001, up from $600 million in 1999.