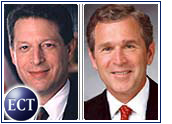 A study released Thursday by the Council for Excellence in Government shows that a majority of Americans believe e-government means better government.
The report, "E-Government: The Next American Revolution," said that while Americans believe e-government will save tax dollars, it will more importantly allow citizens to become better informed about and involved in government.
"The potential of the Internet to improve government is tremendous," said Patricia McGinnis, president and chief executive officer of the Washington, D.C.-based council. "Already, taxpayers, for example, can now file and pay online. Students can apply for financial aid that way, as can drivers in Virginia who want to renew their licenses."
Faith in Positive Impact
For the study, 150 government officials, 155 business and non-profit leaders, and 1,003 members of the general public were surveyed by the research firms of Peter D. Hart and Robert M. Teeter.
Of those surveyed, 56 percent said e-government shows great potential for improving the way that government operates. That number rose to 62 percent among Internet users, 76 percent among business leaders and 92 percent for government officials.
Most Americans expressed a favorable view toward every proposed e-government function. Among those most popular with consumers were the ability to get medical information from the National Institutes of Health and other agencies, the ability to view candidates' voting records, access to Social Security benefit information, the ability to register motor vehicles online and the ability to apply for student loans online.
Net Elections Supported Less
Greater accountability was cited as the top benefit of e-government by 36 percent of those surveyed. Twenty-three percent put greater access to public information in the top slot, 21 percent cited efficiency and cost-effectiveness, and 13 percent cited convenience of government services.
"The future of government online will be limited only by our imaginations, our ability to ensure secure transactions, and our ability to offer online access to all Americans," McGinnis said. "The digital divide must be eliminated to ensure that no one is excluded."
Although Americans would welcome the chance to pay their taxes online and check up on their representatives via the Internet, 59 percent of Americans oppose letting people cast their votes for federal offices online, according to the study.
Online voting was opposed by 57 percent of business leaders and 49 percent of government officials, with 12 percent in the latter category stating no preference.
Take it Slow
Sixty-five percent of those surveyed, concerned over government security, the potential for government employees to misuse personal information, and the general potential for less personal privacy, said that the U.S. should move slowly and cautiously toward e-government and not race to make it a reality.
Notably, 56 percent of government leaders held the opposite viewpoint and believe that government should move quickly toward expanding e-government. The report attributes this trend to the fact that government officials know far more than the public about e-government and have experienced its benefits more directly.
The report does caution those responsible for carrying out the government's "digital revolution" to recognize that the people they serve have serious concerns about this process and that speed of implementation is not their top priority.
"We are working with leaders in government, business, civic groups and the research community to develop a blueprint to maximize the potential of e-government, which we will give to the new President and Congress after the November elections," McGinnis said.
Government Security on Net Questioned
Fears about privacy and safety on the Internet were not allayed by two reports released by the General Accounting Office (GAO), the independent audit arm of Congress, earlier this month. A review of privacy standards at 65 federal Web sites found that only 3 percent complied with the four privacy standards recommended by the U.S. Federal Trade Commission (FTC) for commercial sites.
Among those not in compliance was the FTC's own site.
Another audit found that security weaknesses existed in all 24 agencies reviewed and that a broad range of critical assets and operations were at risk for fraud, misuse and disruption.
The nonpartisan, nonprofit Council for Excellence in Government is an organization of private and nonprofit sector leaders whose goal is to improve the performance of government at all levels, as well as government's place in the lives and esteem of American citizens.