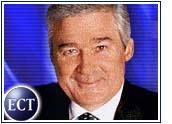 By launching seven new voice technology products, IBM (NYSE: IBM) declared its commitment Thursday to developing voice technology as a key channel for mobile Internet applications.
Big Blue has established strategic relationships with Siebel Systems (Nasdaq: SEBL), General Magic (Nasdaq: GMGC) and Luminant (Nasdaq: LUMT) to expand its voice-over-Internet operations, targeting a market IBM expects to be worth $120 billion (US$) within the next six years.
Pushing a Wireless Web
The new product rollout is centered on IBM's new WebSphere Voice Server with ViaVoice Technology, a platform designed to help companies voice-enable their mobile Internet operations. The new platform is based on open standards and scalable products for mobile devices, Web application servers, call centers and Linux-based Web hosting.
IBM says it is trying to put to use the best points of three technologies — the ease-of-use of natural speech, the convenience of mobile Internet and the low transaction costs of the Web.
The WebSphere Voice Server allows delivery of voice applications based on industry standard VoiceXML, to make Web and call center technologies more effective for e-business. VoiceXML works with Wireless Application Protocol (WAP), the most commonly used mobile Internet protocol. It will first be available for use with the IBM DirectTalk call center platform and is slated to ship in the United States this fall starting at $15,000.
The new IBM products continue the company's new push toward making the Internet wireless whenever possible. IBM is promoting its concept of "pervasive computing," using wireless technology to allow users to connect to their vehicles and appliances, as well as to other lifestyle machinery.
The company launched the new initiative in January to develop wireless technology for all aspects of the Internet, anchored by an agreement with Vodafone AirTouch to design, build, manage and run a global Internet portal for wireless devices. That plan includes integrating applications and content from several e-businesses with a July launch slated in North America, Europe and Australia.
In March, IBM formed strategic partnerships with several major Internet technology companies to develop a variety of wireless Web products. The company is working with Nokia to develop WAP technology for ISPs and ASPs, with Motorola to create an open "voice and data engine" for the development of wireless applications and services, and with Cisco on wireless networks for enterprises and service providers.
Products for All Web Players
In addition to its new voice-based platform, IBM introduced a ViaVoice Dictation product for the Linux platform. The voice recognition system is the only commercially available system designed for Linux, which has become a competitive alternative to Microsoft Windows NT for Internet hosting companies.
In addition, the company introduced a multi-platform edition of its Embedded ViaVoice Java toolkit to help Web developers create speech-enabled software for mobile devices.
Other new voice-enabled IBM products focus on enterprise and customer relationship management (CRM) applications for businesses, including programs that translate speech to text and text to speech to help call centers handle customer service operations.
Several industry researchers have identified improving customer service operations as the key to an e-commerce company's success as competition based on price and selection become increasingly intense.
Wireless on the Way
According to Cahners-In-Stat Group, worldwide wireless subscribers will reach the 1 billion mark by the end of 2002, with penetration rates approaching 17 percent. The number of subscribers is expected to grow at a compound annual rate of 34.5 percent over the next five years, the firm added. Currently, there are about 550 million desktop PC users.
Furthermore, Cahners predicts that wireless devices will be the most popular means of accessing the Internet within the next four years.
Still, some analysts say that the size of such devices will make navigation using a screen and buttons or keys more difficult for older users.
"There's a proliferation of new devices," said Steve McClure, a research vice president with IDC. "The future of the computer industry is not necessarily on the desktop. Accessing information from a number of smaller devices, unless you like to type with toothpicks and you're under 30, you're going to use more a more natural interface."