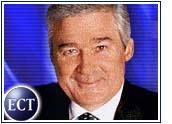 IBM announced the formation of an online business-to-business (B2B) marketplace Tuesday involving ten powerful telecommunications and electronics companies.
Big Blue is developing the new hub, named e2open.com, with some of the biggest names in technology, including Ericsson, Hitachi, LG Electronics, Matshushita, Motorola, Nokia, Nortel Networks, Philips, Seagate, Solectron and Toshiba.
Together the participants will bring a combined inventory of more than $200 billion (US$) worth of assembly components, semiconductors and manufacturing services to the exchange, which is scheduled to debut in July.
The founding partners, along with Crosspoint Venture Partners and Morgan Stanley Dean Witter, have committed more than $200 million to finance e2open.com, which will reportedly be powered by IBM's technology partners, i2 and Ariba. The new marketplace is one in a string of ventures designed to integrate the B2B technologies of IBM, i2 and Ariba.
Last year, IBM spent $13 billion on the Internet for parts, saving itself $250 million by buying online, according to company reports.
IBM's Aggressive Growth
Today's announcement comes on the heels of last week's unveiling of a new online marketplace planned by IBM and Internet Capital Group (ICG). The Chicago, Illinois-based venture is designed to pair buyers and sellers of intellectual property.
Once the new site is operational, users will be able to search, analyze, buy, sell and license patents and other intellectual property in a number of industries.
IBM will list more than 25,000 of its own patents in the marketplace, which will be open to any industry. ICG and IBM estimate the intellectual property market is worth about $100 billion. The site is expected to be up and running sometime next quarter.
Redefining Big Blue
While some industry stalwarts had all but written IBM's corporate obituary last year, Big Blue has successfully repositioned itself as an electronic commerce innovator.
Naysayers predicted the computer maker's decline, since it appears the market for personal computers may be waning. However, by combining its resources and formidable technological experience with other companies like i2 and Ariba, IBM took a proactive approach to ensure the company's survival in the new economy.
Marketplaces Thriving
Of all the initiatives that have emerged during the infancy of electronic commerce, B2B marketplaces appear to be the healthiest and most lucrative ventures for all involved.
While industries ranging from automobiles to personal care products have jumped on the marketplace bandwagon, most are designed to cut costs and paperwork, and to enable suppliers to place bids for business from major industry buyers. The end result is lower prices.
Buyers benefit through tighter controls on inventory and supplies, and by avoiding unnecessary shipping and storage costs.