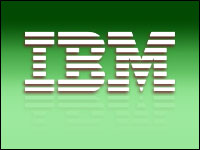 IBM continues to carve out its own stake in the social enterprise app space — a market forecast by Forrester Research to grow 61 percent each year to reach US$6.4 billion by 2016 — with the beta rollout of the next release of its enterprise social networking platform, IBM Connections.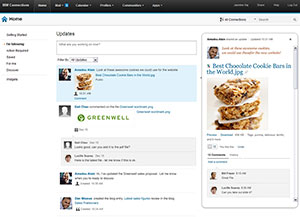 (click image to enlarge)
The beta, which IBM hopes to ship in the first half of this year, has several major enhancements: It supports the use of OpenSocial embedded apps; it has a sophisticated news or activity feed; and it has upgraded analytics.
"IBM is taking a leadership position in these integrations," Luis Benitez, IBM's social software product manager, told the E-Commerce Times. "We are writing the APIs for the connections to Twitter and other social media platforms and taking the lead editor role with them as well."
5 Years on the Market
Introduced about five years ago, IBM Connections was among the first to integrate social networking capabilities with enterprise content management. It got a jump on the competition, Charles King, principal with Pund-IT, told the E-Commerce Times.
"The closest competitor would have been Microsoft," he said, "but even Microsoft didn't start talking about integrating social networking with Sharepoint until after that."
The second piece to IBM Connections is its predictive analytics tools, which help companies gain insight on social networking sentiment and take action in real time.
Under the Hood
IBM Connections beta now integrates wikis, blogs, activity streams, email and calendaring — and flags relevant data for action.
It also simplifies access to business-grade file sharing, social networking, participation in communities, online meetings and instant messaging.
Users can co-edit documents in real time via a cloud-based productivity suite.
The News Feed
The activity stream, or news feed, is what pulls these disparate pieces together for the user, said Benitez. It displays structured and unstructured data such as Twitter feeds, Facebook posts, weather data, videos, log files and SAP applications. It lets an employee share a document with colleagues, approve a transaction from an SAP system, act on a notification required in a business process like an insurance claim, and share content such as status updates and files from IBM Connections.
"It gives companies an easy way to integrate such events as updates to a travel app or, say, the SAP application running the company. It also publishes anything that runs outside the firewall such as updates to LinkedIn or Twitter. We wanted to make it super easy to aggregate all of the information in one place," he said.
The news feed also gives users an "embedded app experience," Benitez continued. "If you see an event taking place in SAP and want to interact with it directly from the news feed, you can, in a matter of one or two clicks."
For instance, if a co-worker is waiting for approval on a project or expenditure and it comes across the news feed, he or she doesn't have to exit the feed, log into the new system and complete the process, he explained.
"In addition to that, we are adding support for OpenSocial and OpenSocial gadgets," said Benitez. "Companies are able to take those gadgets and run them inside the connection."
"It really creates that 'develop once, consume everywhere' environment that companies wants," he said.
Social Media ROI
IBM Connections has also upgraded its analytics capabilities and real-time data monitoring in this version.
"Companies ask about the ROI of social business — how to get value out of the system," Benitez said. "We addressed that with an enhanced analytics function."
For example, the system not only counts blog posts when evaluating sentiment, but also uses analytics to rate the blog according to its content, he pointed out. "It looks not just at quantity but quality too."