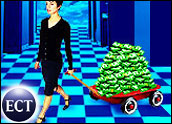 Echoing reports of similar deals from such competitors as IBM, computer giant Hewlett-Packard (HP) said it won a five-year contract to handle technology outsourcing for Telecom Italia, a fixed-wire and wireless communications firm.
The companies said the deal is worth 225 million euros, or about US$243 million. It calls for HP to provide information technology management services, including help-desk support and regular maintenance, for some 90,000 desktop users under Telecom Italia's corporate umbrella.
A second leg of the deal calls for the telco to host and help manage SAP-based operations that HP may seek to sell other companies in the region.
The companies said the agreement still needs the blessing of some workers' unions and clearance from the Italian Antitrust Authority before it can become final.
Shares of HP stock were up modestly in early trading Friday, rising just over 1 percent to $26.29. Attempts to reach HP for comment were not immediately successful.
Shifting Resources
The telco said the move would enable it to realize cost savings and shift resources to focus on growing its business. As part of the agreement, some 600 workers from the Telecom Italia IT department will be shifted into a new HP entity.
In a statement, HP Senior Vice President Francesco Serafini said the deal would help establish HP's credentials in the "SAP and desktop outsourcing markets as a leading provider of on-demand IT services."
Larger Trend
With the outsourcing deal, HP grabs another piece of a rapidly growing market. Enterprises are eager to reduce their IT costs by aligning with well-known providers and are becoming increasingly comfortable with outsourcing their IT needs. Over time, more enterprises likely will hand over not only technical support and other routine work, but also more strategic information technology work, such as application management, saidYankee Group analyst Andrew Efstathiou.
"Enterprises want to simplify," he told the E-Commerce Times. "Having a trusted partner they can outsource to and also purchase equipment from is part of that."
HP has made no secret of its interest in taking part in the growth of outsourcing. Last year, it signed a deal with Japanese telecom NEC to jointly provide outsourcing for companies in Japan, China and the U.S. It also inked a five-year contract with DirecTV to manage the technology for the customer billing operations at the satellite television giant.
Multiple Players
But HP is far from alone. IBM has made outsourcing and so-called computing-on-demand a keystone of its future strategy — one that already has paid off with several outsourcing deals, most recently in the form of a $2 billion, 10-year contract with Ford Motor Company spinoff Visteon.
Big Blue reported previously that it had won a $5 billion contract from J.P Morgan that calls for some 4,000 members of the financial service firm's IT department to become IBM employees.
A boom in outsourcing late in 2002 saw large banks farm out some $20 billion worth of computing work, Gartner analyst Susan Cornouyer told the E-Commerce Times. She expects that the momentum is likely to continue into this year.
"There is growth, but … also no shortage of big, blue-chip companies that want to take part in the expansion," she said.