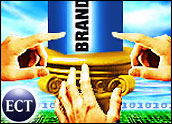 In its first advertising push since its May 2002 merger with Compaq, and on the heels of president Michael Capellas' departure, computer and peripherals maker Hewlett-Packard has unveiled a new campaign to refocus its identity away from its printing and imaging reputation.
The ads, which seek to portray HP as a full-service computer company, will appear on television and outdoor media, in print publications and in online customer testimonials, and will include the company's new slogan: (customer) + hp = everything is possible.
The first wave of campaign ads showcases how HP has helped customers. For example, the company aided DreamWorks animators in their creation of newly engineered characters like Shrek, and worked with FedEx to assure deliveries.
"It's really seeking to position HP as a progressive technology solutions company, not just a printer company that bought a PC company, which is the current perception based on some of our market research," HP spokesperson Rebeca Robboy told the E-Commerce Times.
Compaq: MIA
The campaign, which will cost HP hundreds of millions of dollars, featuressuch memorable images as NASA spaceships and BMW race cars, but it does not mention either Compaq or the US$19 billion merger that was the talk of the tech community for more than a year.
"We've certainly made great strides with integration. This is about positioning the new HP in the marketplace," said Robboy of Compaq's absence from the campaign. "It is our first campaign for the merged company."
Capellas Exit Link?
The campaign launch comes just days after Capellas left to head troubled telecommunications company WorldCom.
Aberdeen Group director Russ Craig told the E-Commerce Times that he believes the campaign kickoff and Capellas' departure are linked. "I think that signals the end of the Compaq brand, and hence the launch of the campaign," he said.
Craig also noted that the campaign may be an effort to stave off HP's number one competitor, Dell, which recently has entered two markets held dear by HP: printers and PDAs.
Consumer, Enterprise Audiences Targeted
HP's ads already appear in The New York Times and The Wall Street Journal, and outdoor displays will be unveiled in New York's Times Square. Overall, ads are slated to appear in the United States, Europe, Asia and Latin America.
According to Robboy, the campaign is aimed at both the consumer and enterprise markets and will run into 2003 and possibly beyond. She explained that starting next year, another campaign will be launched that is more product-focused and aimed at the enterprise market. Robboy could not say in which publications or other media future ads might be placed.
HP's new message also will be featured in HP CEO Carly Fiorina's keynote speech at Comdex in Las Vegas.