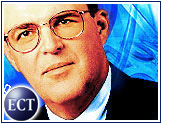 Hewlett-Packard president Michael D. Capellas, a key figure in the hard-fought battle over the HP-Compaq merger, will resign his position and is rumored to be the choice to try to resurrect fraud-plagued WorldCom.
HP said the presidents position will not be filled, leaving CEO Carly Fiorina firmly in control of the computer makers direction at what analysts believe is a crucial time of stepped-up competition.
In a statement, Fiorina said Capellas' departure comes at the right time because the hotly contested merger with Compaq, where Capellas was CEO, is in the past. Capellas also resigned from his seat on the HP board. "We've reached a natural transition point," Fiorina said. "We are meeting or exceeding all of our integration targets."
Capellas echoed that sentiment. "I'm comfortable making this move because of the progress of the integration," he said in a statement.
Golden Parachute
According to an agreement with HP struck during talks over the US$18.7 billion merger, Capellas will receive a $14.4 million separation bonus when his resignation takes effect December 1st.
The move had an immediate negative effect on HP shares, which fell 11 percent Monday. By early Tuesday, though, investors were expressing more confidence that Fiorina could steer the combined ship alone, and the stock regained 2 percent of its value to stand at $15.14.
Opposing Camps
Analysts seemed split on the impact Capellas' departure will have on HP. Many noted that Fiorina and Capellas often appeared together at HP events and seemed to have forged a solid working relationship. But others said the company was essentially operating with two CEOs, a condition that could not persist for long.
Both camps agreed that the move will result in closer scrutiny of HP's upcoming quarterly results. In August, the company announced a $2 billion third-quarter loss, largely because of integration costs, including payouts to hundreds of laid-off workers.
"HP's real task is to prove [over the] long term that this was the right move, that its products fit the marketplace in enough places to make it matter," Yankee Group analyst Robert Perry told the E-Commerce Times. "It's a big job."
WorldCom Savior?
Meanwhile, reports indicate that in a matter of days, Capellas could be named to undertake the monumental task of reviving WorldCom, leading the telecom giant out of bankruptcy and away from a raft of fraud charges, which stem from accounting practices that led to overinflated earnings.
Capellas' resume does not include telecom experience, but Challenger, Gray & Christmas CEO John A. Challenger told the E-Commerce Times that companies are looking for other traits, especially in trying times.
"The CEO position is one that is in turmoil across all industries," Challenger said. "Companies are rethinking their expectations of the top position and what they want in a leader, and that's led to a lot of pressure and a lot of turnover."