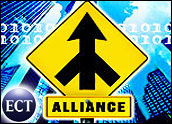 Technology giant Hewlett-Packard and Japanese telecommunications firm NEC have announced they will provide joint outsourcing services for organizations in China, Japan and the United States. The offering eventually may extend to other areas, including Southeast Asia and Europe.
The companies said the services will be tailored to customers' needs and will range from management of specific IT areas to entire IT staffs. Ann Livermore, executive vice president of HP Services, said enterprisesseeking to reduce IT costs are the most likely candidates for such outsourcing.
The announcement was made in Tokyo by Carly Fiorina, HP chairman and CEO, and Koji Nishigaki, NEC president.
Other Ventures
In addition to the services alliance, HP Services spokesperson Brad Bass told the E-Commerce Times that the companies also are at work on a joint venture to be located initially in Japan, with potential to expand beyond that country.
"We see the two companies as complementary in what we offer, as well as where we have strengths geographically. This will give us a stronger foothold in Japan and other parts of Asia," Bass said.
Also on Thursday, HP announced a five-year, multimillion-dollar agreement with DirecTV to manage the satellite provider's billing software system.
"We are looking to really expand HP's presence in managed services, and we view this deal with NEC and DirecTV as more proof we are a real contender in this area," Bass noted.
Merger in the Cards?
Analysts have speculated about the possibility of a merger between the two companies. But Ron Silliman, a senior analyst at Gartner, suggested that even if a merger were in the works, it likely would not occur until after 2003.
" I can't imagine HP doing a deal on the size of an NEC yet," Silliman told the E-Commerce Times, noting that the Compaq merger occurred less than a year ago. "They have enough on their plate as it is to pull all the pieces together. It's still a huge digestion situation."
And HP's Bass was adamant in stating that his company has no plans for an NEC merger.
HP Services on Move
HP Services is one of the company's major growth areas, along with printing and imaging. Indeed, Yankee Group program manager Andrew Efstathiou estimated that HP Services books nearly US$12 billion in revenue annually. Industry-wide, he noted that HP Services ranks among the top four service providers, behind IBM Global Services, EDS and Fujitsu. It reportedly employs 65,000 people in 160 countries.
During the fourth quarter, the division signed 30 new business contracts with clients including Microsoft, the Department of Veterans Affairs and CIBC. Each contract represented an average value of $120 million, according to HP, for a total of $3.7 million in long-term revenue.
"HP Services is a huge growth area in terms of their strategy. It is profitable for them," Efstathiou told the E-Commerce Times. He said he expects to see further deals in 2003, especially as the economy gains strength. "Plus, they have a mandate from the top to aggressively grow that business, so I anticipate more announcements like this."