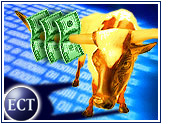 Lifted by its printing and imaging success and by cost-cutting measures associated with its US$19 billion merger with Compaq, Hewlett-Packard on Wednesday reported that it exceeded analysts' expectations in its fourth quarter ended October 31st, earning $390 million.
Without restructuring charges of $331 million, the company said earnings would have amounted to about $720 million, surpassing Thomson First Call analysts' estimates of about $660 million.
The Palo Alto, California-based company's $18 billion in quarterly revenue represented an increase of 9 percent from the previous quarter and beat analysts' expectations of $17.3 billion.
HP also saw decreased losses in its enterprise and personal systems and HP Services divisions.
Merger Vindication
HP's earnings statement was released just a week after former president Michael Capellas departed to head troubled telecommunications giant WorldCom. That exit, combined with the quarterly results, serve as a signal to some analysts that the melding of the two companies is nearly complete.
Had HP and Compaq been together a year ago, the combined company would have lost $505 million.
"Much of the heavy lifting has been done," HP spokesperson Rebeca Robboy told the E-Commerce Times, "but there is still more work to be done with our cost structures to realize the full benefits of the merger in our enterprise and key businesses."
Too Soon To Judge
But it is too early to call the merger an unqualified success, according to analysts.
"I think they're managing it well under the circumstances and better than planned, but the real long-term success is determined [by] whether they can have revenues and profits take off, and that's not happened yet," Yankee Group program manager Andrew Efstathiou told the E-Commerce Times.
"What this does say is that they are in control of [the] transition process," Efstathiou added.
But he stressed that few companies have called 2002 a banner year, and that the second half of 2003 could be a better indicator for the industry in general.
Cost-Cutting Measures
Even as it reported positive results, HP said it cut 25 percent more jobs than originally anticipated as a result of the merger, bringing this year's total layoffs to 12,500, for a savings of $257 million.
HP also is planning to cut an additional 17,900 jobs — 1,100 more than initially estimated — in a voluntary workforce reduction in Japan. Those cuts are expected to occur by the end of fiscal 2003 as part of the company's $3 billion cost savings plan.
MorningStar.com analyst Joel Beaulieu told the E-Commerce Times that he credits part of HP's quarterly gains to its cost-cutting measures, including job cuts that were on — and in some cases ahead of — schedule.
Services To Reign?
HP's news comes just days after the company launched a full-scale brand-awareness advertising campaign focused on its enterprise services. The company is touting its partnerships with such companies as DreamWorks and FedEx.
HP has said it will continue a similar, though more product-focused, campaign into next year.
Besides printing and imaging, said Efstathiou, HP Services is another major profitable segment. "They've pinned a lot of their future on the services segment, and that is doing well, especially considering the weak industry conditions for services," he said.
HP Services saw 4 percent growth compared with last quarter, but a year-over-year decline of 3 percent to $3.1 billion.
HP said it is on track for first-quarter 2003 earnings. The company expects to book $18.4 billion in revenue, with earnings of 27 cents per share. HP's Robboy noted that the company is expecting an uptick in holiday sales but that such sales will likely fall below traditional levels.