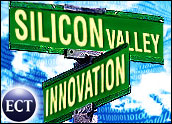 Long after the bubble burst, leaving office buildings half-empty and six-figure software engineers hunting for work, Silicon Valley remains one of the most important technology centers on Earth.
From chipmakers like Intel to auction giant eBay, the Valley is still home to many of the high-tech industry's standard-bearers. But in an era of bottom-line budget scrutiny, does it still make sense for companies to stay in the Northern California hot spot, where the cost of living — and therefore of doing business — is among the highest in the U.S.?
Home Grown
Granted, Silicon Valley has many good points, and the companies that have stayed say those benefits outweigh its price premium. They cite the enormous pool of technology talent that flocked to the Valley not only during the Internet-fueled boom of the late 1990s, but also in the personal computer boom of the 1980s and the 1970s circuit boom before that.
"EBay was founded here for that reason, and that's why it's remained here," eBay spokesperson Kevin Pursglove told the E-Commerce Times. Indeed, as the auction giant has acquired other companies, such as Half.com and PayPal, it has moved most of those firms' workers to its San Jose headquarters. "There are numerous advantages to the location, some of which are hard to put a price on."
For a global company like eBay, a location on the West Coast puts it three hours closer to important and fast-growing markets in the Asia-Pacific region. In addition, eBay's California address means it is just a quick drive away from potential recruits at some of the United States' best colleges, and workers in the Valley often rate the region high in terms of hard-to-calculate quality-of-life factors.
Accounting Matters
But from a strictly dollars-and-cents viewpoint — which is more in vogue now than ever before — it seems that staying in the Valley is not an easy decision. After all, other regions of the country would love to host the businesses that have made Silicon Valley famous: low-impact industries that pay well and do not pollute much.
Some of these would-be tech havens have dangled carrots, from tax breaks to ready-to-build-on land, to lure companies from the Valley. Many have even adopted similar nicknames. New York has Silicon Alley, while several cities south of the Mason-Dixon line, including Huntsville, Alabama, have taken to calling their regions the "Silicon Valley of the South."
Even without added incentives, a strictly cost-based analysis often favors steering clear of the Valley. Although Silicon Valley rents have plummeted from their peak of nearly US$5 per square foot per month for mixed office and R&D space, they still hover above the $1.50 level. In comparison, some areas in the U.S. southern states offer similar space for about $1 a foot, and in some cases far less. For a tech company with just 30,000 square feet of space, a relatively modest amount, that difference could mean up to $180,000 per year in savings.
You Can Get There
Analysts point out that other places also may offer better highway and airport access, cutting down on time spent traveling to and from work. And because the cost of housing — and almost everything else — is higher in Silicon Valley than in all but a few other U.S. locales, workers can be paid less. That can mean dramatic savings, whether a company has 100 or 10,000 workers.
"Even companies that invest heavily in research spend more money on facilities and salary and benefits than anything else," US Bancorp Piper Jaffray senior research analyst Safa Rashtchy told the E-Commerce Times. "When you're trying to trim expenses, apart from squeezing suppliers, maybe, those are the only big areas where savings can be made. But at the same time, there is visibility in the Valley, with investors, with partners. There are benefits you can't put a price tag on."
The cost of doing business in Silicon Valley recently helped convince consumer electronics maker Nikon to locate a manufacturing facility near Phoenix, Arizona, rather than in the Valley. The company touts the Arizona climate in its job pitches.
Likewise, printer maker Lexmark has its headquarters in Lexington, Kentucky, far from most traditional tech centers yet still close to several major research universities. The company says engineers and other high-tech workers are lured there by a starkly lower cost of living and the region's natural beauty.
Converging Technology Centers
On the other hand, the cost difference between the Valley and other tech centers, such as Boston, Raleigh-Durham in North Carolina and other areas, is far less pronounced than it once was. Not only has technology eroded some of the advantages of being located near other tech companies, but in the post-boom days, rents and labor are both cheaper in the Valley than they were two years ago.
The region's unemployment rate, which hovered near zero at the peak of the boom, has ballooned to 7 percent, while office vacancy rates have soared from about 4 percent in 2000 — an all-time low — to more than 20 percent late in 2002.
And despite these dismal statistics, only about 2 percent of the area's workforce of more than 1.5 million people have left the Valley, according to Rob Foreman, a partner in the San Jose office of recruitment firm Christian & Timbers.
"A lot of people tried to rush in near the end of the bubble, and they have been disenchanted with the area. They came in expecting to cash in and ride the wave only to have it crash on them," Foreman told the E-Commerce Times. "I still think the Silicon Valley has the most talented technical people in the country, and in the end, talented employees are what drive the information economy."