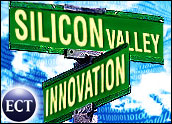 Good news is hard to come by lately in Silicon Valley. It's out there. It's just a lot harder to find. And sometimes it requires an extra spin to make it clear that it is, in fact, good news.
But if nothing else, the Valley has less traffic than it did a year ago. That's right: Officials in Santa Clara county commissioned a study and found that traffic has dropped 32 percent, the biggest plunge in a decade.
Of course, that good news is built on the back of a whole lot of bad news. And it's just not fair. The Valley is taking it on the chin just because it got a little — okay, maybe a lot — excessive with its own image when things were going well.
Bye Bye, Buy
They're not going too well right now, however.
Not long ago, Buy.com founder Scott Blum decided to move his Think Tank operations to Wyoming. Yep, Wyoming.
Blum cited a desire to have his company located near his family, but I suspect that paying a million dollars per square foot for office space when he could get a million square feet for a dollar elsewhere no longer seemed like a good idea.
Rolling Back
Silicon Valley workers aren't immune, either. Not long ago, Microsoft reportedly informed its Northern California-based workers that it would roll back salary premiums put in place for the region early in 2000, when skilled technical workers were being bid on like Enron employee-conduct handbooks.
Of course, this news isn't likely to bring tears to the eyes of most observers, especially those in other parts of the country who are out of high-tech jobs altogether. Eighty percent of a paycheck still beats no paycheck at all.
The Valley's image is taking a beating, too.
Sure, the area is still the most wired region of the country — no surprise there — but is it still the hippest? TechTV, a cable and Web venture of Microsoft co-founder Paul Allen, has decided to bag its "Silicon Spin" show, a half-hour program focused on doings in the heart of the tech world.
Could it be that no one wants to hear any more about Aeron chairs being sold at dot-com auctions? Imagine that.
Whipping Post
Of course, the Valley is caught up in something bigger.
As books about the rise and fall of the dot-com industry start to roll off the presses in droves, from serious tomes by New Yorker writers to an inside story by Philip Kaplan of F–dcompany.com Web site infamy, it's clear that there is an overwhelming sense of fatigue about the whole Internet bubble, from inflation to implosion.
The fact is, people want to move on and have started to do so.
As they do, they are quickly realizing that the heady days of salary differentials, wheelbarrows full of stock options and comfy chairs are a thing of the past. So, by extension, is glamorizing the Internet lifestyle and the lives of people who found, run and fund the companies that make up the Web.
Laying Low
Putting genies back into bottles is never easy, but it may be best if Silicon Valley keeps its head down for a while. It doesn't have to be shy. It still is at the center of the tech revolution, which still is happening, albeit in super-slow-motion. But it shouldn't call too much attention to itself.
Enjoy the quick rides to work, and learn to make do with a little less for a while. Silicon Valley will survive the bust much as it did the boom. It just will never be the same, that's all.
What do you think? Let's talk about it.
---
Note:
The opinions expressed by our columnists are their own and do not necessarily reflect the views of the E-Commerce Times or its management.
---