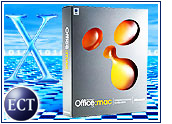 It would be a gross understatement to say the Mac faithful are eagerly awaiting a new office productivity suite from Apple. For rumor sites and Mac-focused blogs, the arrival of such software would be a touchstone, a new battle royale in which to turn up one's nose at the leading productivity suite, made by that big software company in Redmond.
We may get a sneak peek during Apple's Worldwide Developers Conference next week in San Francisco. Amid the speculation, hints include the lackluster state of Apple's existing office productivity suite, Appleworks, which has gone two years with no substantial upgrade, and the arrival this past January of Keynote, a flashy competitor to Microsoft's PowerPoint presentation software.
The fact is, it's high time the suite wars were revisited. Not because of the rebirth of the Mac (which is happening), not because Office needs competition (which it does), and not because the browser is a powerful factor not present in the earlier suite wars (though it is). No, we need a new suite war because the Web has changed everything.
The advent of connectedness and universal document formats, namely XML and its derivatives, is paving the way for a new kind of workflow, where material comes in from wherever it's found on the Web, is integrated with other media and then is sent to any number of destinations, including print, video, photo albums, presentations and Web sites. A new suite from Apple would fit this framework nicely.
A World Without Microsoft?
Imagining Apple back in the suite wars after years of Microsoft dominance is a little like imagining home-cooked blinis competing with McDonald's in Moscow's Red Square — it seems like it just ain't gonna happen. Not least because Apple seems bound to Redmond in a supplicating position.
Jean-Louis Gassee, former Apple executive, founder of defunct computer maker Be, Inc. and now a Silicon Valley venture capitalist, has written that Microsoft has been a powerful enough force at Apple to control the fate of the company's machines since the mid-1980s, when Microsoft killed the BASIC interpretor for the Macintosh, a key setback for the young product.
Gassee's point is that Apple cannot exist without Microsoft's blessing. As he puts it, "Without day-to-day applications, there could be no health" for the Mac.
However, as Msr. Gassee also notes, the Safari browser is evidence of a world beyond Microsoft's Internet Explorer, which Microsoft recently announced will no longer be produced for the Mac. You can almost hear the war drums now.
Way Beyond the Spreadsheet
But just what is to be gained from a new suite war?
As the Mac Rumors site noted, the idea of productivity components — free-standing functions that can be used together to create a workflow — seems to be an important concept that might emerge in any Apple suite. The model for this concept is iLife, Apple's bundle of four productivity applications, and Apple's Keynote application is the first evidence of the idea's fruition. The program allows a user to pull pictures and QuickTime movies from collections and carefully manipulate how they integrate with tables and charts in each slide.
Of course, one cannot discuss new office suites without also noting forthcoming changes to operating systems. Apple's update to OS X, Panther, will debut next week, and several intriguing elements of it could have a profound effect on a future office suite. There has been much buzz about one feature with the unlovely name of "piles," which we'll just call Apple patent #6,243,724, filed nine years ago in 1994 but awarded in 2001. Piles sounds like a neat way to hide the complexity of the computer file system while allowing users to automatically group documents, text clippings and other objects by subject matter or keyword. This capability could simplify use of content between different components of a productivity suite.
The Web Changes Everything
However, a more important point to ponder is how networking has changed the nature of office work. Most productivity programs emerging now feature some kind of connectedness. Office 2003, the follow-up to Office XP from Microsoft, which is going through its second beta release, will leverage .NET services in Windows 2003. .NET will give Office the ability as a client program to pull data from remote servers.
ThinkFree Office, an Office XP alternative for the Mac and other platforms, comes with an account for Web-based disk space so that projects are automatically networked.
Meanwhile, Apple is clearly putting its Rendezvous technology into all of its programs, making discovering shared resources on a network as easy as possible.
Print Me, Fax Me, IM Me
In addition to networking, users should benefit from the move to XML as a standard file format, rather than the proprietary formats of yore. In fact, it appears that most word processors in future office suites will have morphed into miniature publishing programs, including not only the ability to output XML, but also deep integration with Adobe's PDF standard for prepress. This feature shows up even in non-Mac packages, such as Corel's WordPerfect.
Office productivity apps also probably will sport some peer-to-peer and "presence" technologies that are gaining ground in the enterprise. The ability to easily find and collaborate with individuals remotely or on corporate networks makes the suite a whole different animal. Microsoft's answer is something called the real-time communications server, slated to ship this year, which is basically an instant messaging hub.
Here They Come
Of course, Apple is not the only potential challenger to Microsoft's Office dominance. You can already get your hands on a few alternatives to Office. They include the open-source OpenOffice suite, which is related to Sun's StarOffice, and the Web and Java-based ThinkFree, starting at US$50, both of which are also available for Windows and Linux. For a modest amount, some suites have been throwing in the kitchen sink. One non-Mac product, PC Suite from 602 Software, costs just $30 and includes not only a spreadsheet and word processor, but also a digital photo manager.
Apple's latest attempt at a productivity program is heartening. I can tell you, after some brutal experiences with PowerPoint, that working with the Keynote presentation program is a delight by comparison. I waited until the recent release of the 1.1 version, which may have fixed the many disastrous bugs people have complained of in past months.
I've also had good results with OpenOffice and ThinkFree. Both do a good job of importing Office documents (Word, Excel) while adding interesting features, and they look and behave like traditional office suites. OpenOffice adds drawing and prepress capabilities to the basic suite of spreadsheet and word processor, while ThinkFree, as mentioned above, comes with an online filing cabinet. Just make sure you've got a G4 processor and plenty of memory in your Mac, as these are both gas guzzlers.
We'll Take a Pass on This One
Adding to the potential firepower of alternative office suites, it's possible that 2003 will be a wash for Microsoft. For one thing, IT departments will be learning how to use the significant new features in Windows 2003, which will involve a substantial amount of time. Also, Microsoft will release another version of Office in 2005 that likely will leverage features of its next client operating system, Longhorn, which will focus to a great extent on media sharing and discovering resources on a network. That version of Office may be a more significant upgrade than Office 2003. Still, individual point upgrades may still stir a few users this year, such as the second release of the Visio diagram program, Visio 2003.
In addition, Project Mono, the open-source version of Microsoft's .NET code for Web services, could be ported to Mac as OpenOffice was, possibly stealing some thunder from the Web services aspects of the next couple of Office releases. Either way, the coming year looks to be an interesting one in the desktop productivity universe.
---
Note:
The opinions expressed by our columnists are their own and do not necessarily reflect the views of the E-Commerce Times or its management.
---