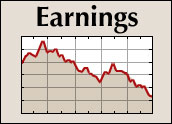 Smartphone maker Palm lost money in the third quarter, even though the company was reporting the strongest product launch in its history.
Palm posted a third-quarter loss of US$31.5 million, or 30 cents per share, compared with a profit of $11.8 million, or 11 cents per share, in the third quarter of 2007.
Palm shares closed up slightly, but still near their yearlong low Thursday after the Sunnyvale, Calif.-based smartphone maker reported that Q3 sales in 2008 had fallen from $410.5 million in 2007 to $312.1 million this year.
Palm shares closed at $4.72 Thursday on the Nasdaq Stock Exchange — near the stock's 52-week low of $4.25 reached on Jan. 23. The stock peaked at $19.23 on Oct. 24.
Restructuring, Sagging Treo to Blame
Much of Palm's third-quarter performance was due to restructuring charges, it said — the company trimmed jobs and shut down retail outlets in the second quarter — and lagging sales of its Window Mobile-based Treo line, which is due for an update this summer.
The high-end Treo competes against the likes of Research In Motion's BlackBerry and Apple's iPhone devices.
Simultaneously, Palm trumpeted the success of its new $99 Centro handset, which helped it post a company-record 833,000 smartphone sales for the quarter.
"Centro is off to the strongest start of any smartphone in Palm's history," said Ed Colligan, Palm president and chief executive officer. Centro "is expanding Palm's customer base with more than 70 percent of Centro buyers trading up from traditional cell phones."
The company plans to refresh the Treo phones over the summer, Colligan reportedly said.
Had Its Chance to Dominate
Palm has frittered away a prime opportunity it once had to dominate the smartphone market, commented Rob Enderle, principal analyst for the Enderle Group.
"Palm is a company that should own the space occupied by RIM and iPhone," Enderle told the E-Commerce Times. "The reality here is that this really was a market they should have owned and, for whatever reason, lost it."
Palm is not anticipating a profit in the next quarter, it said. However, the company has the tools in place to reverse its downward trend, Enderle noted.
"They have staffed executive levels with a lot of former Apple people, but those people haven't been there long enough to fix the problems," he said. "Palm had really lost its way. We won't get a sense of whether Palm can come back, really, until the end of the year."
Palm is facing some tough challenges in a crowded smartphone market. "They're in a position similar to Motorola in that the momentum really has slipped," Jack Gold, principal analyst with J. Gold Associates, told the E-Commerce Times. "They came out with the Treo, which was a very hot product. Since the initial Treo — which is, what, three or four years old — they really haven't caught market by storm and followed up. It's been more of the same. Even the Centro, which isn't a bad product, isn't really that innovating in capturing people's imagination."
Get the New Phone Right
Palm is probably right in waiting to release a new version of the Treo, Enderle asserted. "What it means is that it's not ready. Right now, in this market, it's better to wait until a product is right. Your best impression is your first. The product should hit the market when it's done and ready."
Palm will be updating its corporate-targeted lineup of products by next year, according to published reports.
Finding a one-size-fits-all-needs device could be Palm's ticket to market dominance. "The market hasn't found the perfect device yet," Enderle said. "It's bifurcated on the entertainment side, with the iPhone and on the business side with the RIM. The product that services both markets isn't out there yet. So the clock is running."