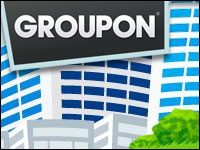 Social shopping site Groupon clearly had bigger aspirations in mind when it spurned Google's US$6 billion acquisition offer last year. The company is in discussions with Goldman Sachs about going public — at a $25 billion valuation — according to a Bloomberg article citing unnamed sources in the know.
The plans are not final, and Groupon could decide to hold off if market conditions are not deemed to be favorable. However, the talks reportedly are advanced enough that the company is looking at a tentative filing in the spring.
Twenty-five billion dollars is an eye-popping figure, even for a hot tech company. Groupon is essentially still in its early days. Also, it would be going to market with nothing but a business plan that already has been widely replicated.
Groupon did not respond to the E-Commerce Times' request for comment by press time.
Size Matters
In Groupon's favor is the huge market that it effectively identified when it launched. U.S. consumer spending on deal-a-day offers could grow from $873 million in 2010 to $3.9 billion in 2015, according to a recent forecast by BIA/Kelsey. That represents a 35.1 percent compound annual growth rate.
The market could reach $6.1 billion by 2015 — a 47.4 percent CAGR. The most conservative scenario, BIA/Kelsey estimated, would be a 19.7 percent CAGR, resulting in a $2.1 billion market by 2015.
The window is wide due to a number of factors that could impact the market — the number of players, the average deal size accepted by consumers, and the possibility of consumer fatigue as the novelty wears off.
There is a lot to like about a public Groupon, noted Matt Britton, CEO of Mr Youth. "It is obviously a profitable company — not like dot-com companies that were valued excessively high and didn't have a profit stream to their name," he told the E-Commerce Times.
"But at the end of the day, $25 billion seems excessive because there is a disproportionate amount of risk with the Groupon model," he said.
Usually, tech companies' competitive differentiators are their actual technologies, Britton pointed out. In Groupon's case, though, it's the company's large email database and large network of advertisers.
Competitors will continue to come out of the woodwork, he predicted. "I see publishers starting to eye this model as a way of recapturing some of the advertising they have lost."
In the wake of Groupon's success, a wide variety of competitors have sprung up, dubbed "Groupon clones." Some, such as LivingSocial, are nearing Groupon's national footprint. Others are focused on local markets or vertical industries.
The broader field includes destination sites and white-label providers working with local media providers such as directory companies, newspapers, and radio and television operators, according to BIA/Kelsey.
As of March 1, 2011, there were 178 cities with deal-a-day sites reaching 102 million people in the United States, the firm said.
Hustle and Bustle
Not that Groupon is standing idly by. The company tweaks its business model almost routinely. It appears to be looking toward the enterprise space, with at least one coupon for IT services consulting in the mix.
It also is pushing the envelope with geolocation technology, using hyper-local targeting to reach customers who might be within a few blocks of a client with coupons for, say, a lunchtime deal.
Being a first mover in this industry means a lot in terms of valuation, said Sandy Smith, a deal attorney with Womble Carlyle.
Also, unlike some social media companies, Groupon's IPO valuation is likely to have been derived at least in part from its demonstrable cash flow and dominant market position.
"Still, given the large appetite for equities associated with social media related companies," noted Smith, "the challenge will be to determine what the market will bear."