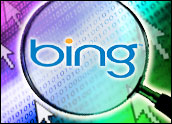 Microsoft's search engine, Bing, launched a new daily deals aggregator on Thursday.
The service, called "Bing deals," compiles offers from Groupon, LivingSocial, Restaurant.com and more through a partnership with The DealMap, another daily deal aggregator. Bing deals is able to sort by location based on the user's mobile device, allowing people to find deals at nearby restaurants, for example.
It is currently available for iPhone and Android users, but ironically, not yet for those with devices running Microsoft's Windows Phone 7 mobile operating system. The service requires HTML5 — Microsoft said that HTML5 support for Windows Phone 7 would come later this year.
Microsoft has been less than clear about the availability of Bing deals for desktop users.
"Today we're launching Bing deals for the desktop and mobile (m.bing.com) — giving you access to more than 200,000 unique offers in over 14,000 cities and towns across the U.S.," says a Bing blog post published Friday morning.
Though the main Bing search page didn't display any information about the new Bing deals, an anonymous "Microsoft spokesperson" told the E-Commerce Times desktop users could access the service.
"Deals are available on the PC in the local search experience," said the spokesperson in correspondence provided by Waggener Edstrom's Anna Imperati.
By Friday afternoon, the Bing blog post was updated: "Bing deals for the desktop is rolling out and will be fully live for all users in the coming weeks," it now says.
Bing Rides the Coupon Racehorse
With tons of daily deals, compiling them into one place is convenient for consumers, especially since they're batched on mobile devices.
"This is a savvy move on Microsoft's part," said Azita Arvani, principal of the Arvani Group.
"Instead of building their own daily offers, they are becoming an aggregator of deals from several deal providers. The fact that it also ties in the location on your mobile device will make it much more useful," she told the E-Commerce Times. "Unless we see a similar offer from Google soon, this may convince some to switch over to Bing, at least on their mobile device."
Bing will likely bring more users to both Bing and the daily deal sites.
"In the short term, it would probably send more traffic to Groupon, Living Social and other deal providers," said Arvani. "So, it will be good for them. In the long term, it may take away the deal provider's differentiation, and relegate them to one of the many."
Microsoft is taking advantage of the fact that there are already some high-quality daily deal sites out there, and it is working with them instead trying to compete.
"Microsoft has been smart not to re-invent the wheel and take advantage of the existing deal providers to bring this functionality to its users," said Arvani. "This should help increase Bing's popularity."
Deal vs. Deal
Microsoft is stepping out of the way and letting the deal producers compete face-to-face.
"This is a deal aggregator which pits the deal sites against each other," Rob Enderle, principal analyst at the Enderle Group, told the E-Commerce Times. "It will put a lot of pressure on their margins and make it even more critical that they find ways to differentiate other than just price."
One result of Bing deals will be the elevation of the smaller players.
"A good aggregator lowers the value and impact of the major properties it aggregates and raises the value and impact of the minor ones," said Enderle.
If it works well, consumers could win big with Bing deals.
"If it is compelling and well marketed it could be a handy service, and folks really do want to know if they got the best deal," said Enderle. "But execution will be king here, and we'll have to wait to see how well Microsoft executes."
Microsoft has landed a punch in its competition with Google, though it may be a light punch.
"It's a good idea, mostly because it isn't emulating Google but rather coming at the opportunity differently," said Enderle. "I think Microsoft is getting that they need to get between Google and Google's targets — either consumers or advertisers — to win, while not pounding on Google directly. This appears to be that kind of a strategy. It gives them better odds."
The Spotlight's on Bing
Bing has been stepping into the light recently and it wants to keep that light shining.
"Microsoft is trying to keep some of the excitement around Bing," Charles King, principal analyst at Pund-IT, told the E-Commerce Times. "They've seen some positive activity around Bing over the past few months. Now they want to provide consolidation services and create a one-stop shopping service for those looking for bargain coupons."
The move is a mixed bag for Groupon.
"It's hard to say what it means to Groupon," said King. "Bing is still in a minority position. I'm not sure it will provide any improvement to Groupon's service. The big question is whether this is an exclusive deal or one of a number of coupon deals where Groupon gets the benefit of the additional relationships."