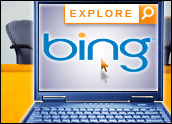 Microsoft's search engine, Bing, added a Facebook integration feature on Thursday that will let searchers see which results their Facebook friends have liked.
After users connect Bing with their Facebook account, pictures of friends will appear below any relevant results generated in a search. They also have the option of disabling the feature without having to sort through privacy settings.
Social network integration has been increasing rapidly. Bing has also integrated Twitter features with its search engine, and last week, Google unveiled deeper Twitter and Facebook connectivity, displaying popular links shared by other users.
"This is the first time in human history that people are leaving social traces that machines can read and learn from and present enhanced online experiences based on those traces," Lawrence Kim of Bing's social team, said in a blog post announcing the latest addition. "As people spend more time online and integrate their offline and online worlds, they will want their friends' social activity and their social data to help them in making better decisions."
Ask Your Friends
Info on likes from friends could significantly influence buying behavior.
"Bing is about helping people make better decisions," Bing Director Stefan Weitz told the E-Commerce Times.
"In the offline world, we know people rely on their friends for information and advice when they need to complete a task or make a decision. This partnership with Facebook allows Bing and Facebook users to take their friends with them to search, helping them make better, more informed decisions," he explained.
"The search experience will be different for each person, only showing results 'liked' by a person's Facebook friends," continued Weitz. "There is no denying that social networking is becoming a bigger and bigger part of all our lives, so it stands to reason that those social signals can add additional insight into the decisions we make based on search results. This is just the beginning of our partnership with Facebook, and we think there are a lot of exciting possibilities ahead in the social space."
As for how this could affect Bing's competition with Google, "you would have to ask Google," said Weitz.
"At Bing, we're staying focused on building a search experience that meets unmet customer needs," he said. "This has led us to release features like expanding the 'like' results."
If there are additional integration tools coming, Bing's not saying.
"Right now, we are focused on our partnership with Facebook," said Weitz. "While we're always looking for ways to improve the search experience for our customers, we have nothing further to share at this time."
A Milestone for Bing
The Bing announcement adds a new level to search.
"This is a solid milestone in Bing's move toward becoming a search engine for the social Web," Azita Arvani, principal of the Arvani Group, told the E-Commerce Times.
"The search engines, up till now, only offered two kinds of results: One was based on some black magic page-ranking algorithm, and the other was sponsored sites. With the Facebook integration, Bing is adding a third layer to show which sites get the Facebook 'like' seal of approval from a trusted friend."
The Bing relationship with Facebook looks like a real coup for Bing.
"Facebook is currently the 800-pound gorilla in social networking, and Bing couldn't have done better than that for now," said Arvani. "This move gives Microsoft a new tool to attack Google's stronghold in search. The fact that Microsoft does not have its own social networking will help with the company's partnership with Facebook."
This feature could provide a good Facebook presence and make "likes" more valuable to companies.
"Google should definitely take notice and do something similar with Facebook," said Arvani. "If this social layer catches on, the importance of a company's presence on Facebook will rise dramatically. So, more businesses will be compelled to have a presence on Facebook. This will, in turn, give Facebook its next engine of growth beyond consumers."
Maybe Worthwhile, Maybe Not
"Likes" may become a metric for companies to assess their popularity with the nearly 600 million Facebook users.
"From a philosophical standpoint, grabbing 'likes' is somewhat akin to measuring the number of hits a given website gets as a metric of measuring the value of something," Charles King, principal analyst at Pund-IT, told the E-Commerce Times.
"It's a potentially intriguing mechanism. I'm not sure searching 'likes' will offer any accurate indication as to whether people are buying products or visiting restaurants, but it would be a value proposition for selling their adverting and increasing their ad revenue," he observed.
The Bing deal may become one more monetizing tool for Facebook.
"It touches on one of the continuing issues about how much trouble social networking sites are having at generating revenue," said King. "They have a great service, but monetizing that service to sustain a company is a different matter. We're likely to see more of this as social networks try to make a buck without asking people paying for the service."