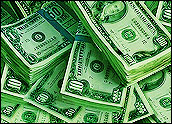 Retailers are quickly realizing the value of adopting technologies that provide insight and analysis of their customers' behavior and experience. The most recent example is smartphone applications that allow major retailers to track and offer promotions to shoppers as they progress from outside the store to counters, to cash registers — and even inside the dressing room. Every move gives the retailer more information and insight.
There's no ignoring the value of a technology that provides a new generation of intelligence and agility, but the hundreds or even thousands of transactions taking place as a system monitors a customer's every move can strain a retailer's IT infrastructure. It can impact transaction response times and, ultimately, the business bottom line.
A key growth area for 2011 is retailers looking to upgrade e-commerce platforms, multichannel infrastructures and application strategies so they can deliver a seamless cross-channel shopping experience across touchpoints. In order for these applications, transactions (and mobile applications) to run smoothly and ensure the legitimacy of each and every transaction, retailers need to consider a new generation of technology.
In Retail's DNA
Enterprise systems monitoring solutions have done a great job providing key metrics related to the individual silo — for example, server CPU, memory, or network bandwidth and uptime. However, these monitoring tools often fail to detect application problems felt by the user community, and IT continues to rely on the end-users to call the helpdesk for problem notification.
Moreover, these silo monitoring solutions do not provide the business context and intelligence that IT needs to run like a strategic business unit. As the business demands become more sophisticated, so should the requirements for IT management technologies. The reality is that IT infrastructures are part of the retail DNA!
The latest trends have been to adopt a combination of complex event processing (CEP), business transaction management (BTM) and end-user experience Monitoring (EUEM).
Take CEP. The goal of CEP is to provide situational knowledge and awareness to help users accurately sense and respond to business needs. CEP does this by correlating and processing the complex events (IT or business events) to help a business understand any operational abnormality.
For example, CEP can monitor and determine when the stock levels for the book The King's Speech are within 10 percent of the minimum stock level given the last 10 hours of buying behavior and send an event to begin the restocking process to the distribution center.
Intelligence and Agility
CEP alone isn't enough for IT management. Combining CEP with the rise of BTM and EUEM, which captures transactions executed by end-users across an organization, has allowed more companies to gain real-time quantifiable business impact that IT needs. Some examples: how many transactions and which channels have been impacted; the total revenue loss; which regional customers have been impacted; where the bottleneck is in the business process; whether there was a security breach by a user.
BTM with a CEP engine brings together events impacting business transactions, processes, activities and customer experience. This sophisticated combination is an ideal technology for retail organizations that want intelligent and agile ways to sell products and services to customers — plus, it provides IT with a reliable infrastructure to back it up.
BTM provides the end-to-end transactions flow perspective, so it ensures that when any problems are detected, the right IT staff can fix the problem immediately without losing sight of any transaction.
The EUEM on the other hand, known for detecting application performance problems, provides the customer experience perspective. EUEM provides an understanding of the impact on the end-user experience, regardless of location.
A powerful combination of BTM, EUEM and CEP would give critical perspectives to IT management:
Visibility of all business transactions and transaction flows
Transaction and application diagnostics for quick root cause of problems
End-user experience and behavior perspective
Business operations and processes perspective with intelligent analytics
A real-time transaction-centric service model to show all transaction

relationships with their supporting IT infrastructure components
These perspectives give retailers a better understanding of events as they happen, enabling them to be more clever and focused in their engagement with customers.
Responsiveness = Success
The faster a retailer can respond to shopping pattern changes and customers' behavior, the more competitive it is — and thus, the more money it makes. Retail is an industry area in which these critical perspectives can be particularly effective for the IT organization and even the line of business managers.
Information about promotions such as daily deals from Groupon and LivingSocial, prices, competition, stock availability, and locations only give customers greater control of the shopping process. Retailers continue to face the competitive pressure and need to be ahead of their game.
Retailers that harness new-generation technologies that provide critical business-centric perspectives are able to gain real-time insight, not only into their business transactions and end-users' experiences, but also into the complex patterns within their IT infrastructure.
Moreover, such solutions typically give retailers an easy way to understand any change impact on the users, the business and the IT infrastructure. For example, retailers can compare between two time periods for a before-and-after effect of any given promotion or campaign.
This allows retail organizations to be more responsive to the market, make better informed decisions, and ultimately be more successful.