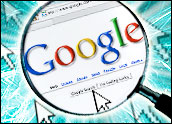 Google has introduced a mobile version of itsProduct Search tool that lets users check on a product's availability in local participating stores.
Product Search for mobile with local inventory lets a user see if, say, a Nikon Coolpix camera is in stock at a nearby Best Buy or Sears — two of the retailers participating in the program — and then provides basic directions to get there.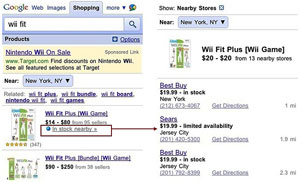 Google's Product Search for mobile with local inventory: Look for the blue dots.
(click image to enlarge)
This is how it works: The user enters the name of a product in the search field. The local stores that carry it — the Nikon Coolpix in this example — lead the results, and each has a blue dot next to its listing.
Consumers can then tap on an adjacent "in stock nearby" link and navigate to the seller's page to see whether the camera is in stock, Google Product Managers Paul Lee and Yury Pinsky wrote in ablog post.
The search results also show how far away shoppers are from the store if they have enabled the "My Location" feature, according to the blog.
Users of any iPhone, Palm, webOs or Android-powered device can use the application, Lee and Pinksy said, by navigating to Google.com on the mobile browser, tapping the "more" link and then selecting "shopping."
Besides Best Buy and Sears, participating retailers include Williams-Sonoma, Pottery Barn and West Elm. Google is looking for other retailers to participate, according to the blog post. It is inviting interested store owners to apply on the site.
Google was unable to provide the E-Commerce Times with an interview in time for publication.
The Lure of Local
There is increasing interest among search, social networking and online advertising companies in finding ways to penetrate the relatively untapped local market. Google's mobile product search with local inventory is just one manifestation of that trend. Others include the rise of local review site Yelp (lawsuit notwithstanding) and geolocational services being rolled out by Twitter and Facebook.
What makes the Google app unique is that it has brought retailers' back-end inventories into the mix, said Peter Krasilovsky, vice president and program director for marketplaces at BIA/Kelsey.
One of the challenges for local search tools has been that consumers get frustrated by the missing next step, he said — that is, they may be able to pull up a list of local stores that sell a general category of product, but that is it.
Most of the time, there is no way for shoppers to know whether a specific item is carried at a store — much less whether it is in stock, Krasilovsky told the E-Commerce Times.
That is still the case with mom and pops, but larger retailers have gotten to the point where they are able to track their inventory at the local level in real-time.
"So, conceivably, if someone is out there is running errands on a Saturday and wants to pick up something at Bed Bath and Beyond, they should be able to access that information," said Krasilovsky.
What Google has done is provide the unifying interface plus a little bit of scale, he explained. Most users probably would not use a tool for only for one retailer, but they would for several major ones.
"There is no reason why Google can't extend this tool to the general retail environment," Krasilovsky added.
Real-Time Shopper
There is a bit of disconnect, though, between the concept of local retail product inventory search and the realities of, well, local retail, said Dan Olds, principal of Gabriel Consulting Group.
Depending on which local area you are talking about, mom and pop stores are a big part of the landscape, he told the E-Commerce Times, and "I don't see how they will be able to integrate into something like this anytime soon."
However, the pressure to do so will be significant — especially as larger retailers enter this — or a competing — system.
"Let's face it, shoppers, particularly American shoppers, want what they want when they want it. If something isn't available at that moment, they will go elsewhere to get it," Olds observed.
By the same token, if a shopper specifically goes to, say, Best Buy, with the understanding that something is in stock and then finds that it isn't, the application will lose all credibility — not only with that individual, but also anyone who may read the shopper's tweets or blog, Olds pointed out.
"Accuracy will be essential with this service," he said. "It is better not to participate at all if there is a chance the retailer may put the wrong information out there."