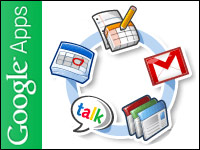 You've got apps for your phone. You'll soon have apps for your digital video recorder. Now, you can have apps for your Apps, as in Google Apps.
Google has launched its new Apps Marketplace for its Google Apps line of cloud-based productivity services. Initial participants include about 50 companies selling applications that hook into various Google services.
Among the apps are offerings from Intuit Online Payroll, eFax and Survey Monkey, among others.
Streamlined Is the Word
Installing the apps is meant to be a streamlined process — as few as four clicks are involved — and the software is meant to integrate tightly with Google's documents, calendar, email and contact services. Users can open the apps from within the Google Apps control panel, and the single sign-in scheme means the end of multiple passwords to manage services.
Google marketplace product manager Chis Vander Mey said in a blog posting Tuesday that the service will simplify work life for executives and IT managers.
"The Google Apps Marketplace eliminates the worry about software updates, keeping track of different passwords and manual syncing and sharing of data, thereby increasing business productivity and lessening frustrations for users and IT administrators alike," Vander Mey wrote.
Partner Cites Easy Integration
The decision to sign up was a no-brainer for Pamela O'Hara, president of BatchBlue Software, one of the intial 50 vendors in the Google marketplace.
BatchBlue provides CRM software integrated with tools to monitor customers' social networking output, as well as information from other Web-based services, to help create a fully integrated picture of each customer, according to O'Hara.
Cloud computing is the way to go for small businesses, she said, and supporting Google's decision to open its products to such tight integration can only further the cause.
"We think it's the right thing to do," she told the E-Commerce Times. "It's cheaper, it's easier — it's more reliable."
The company did not need to make any changes to its core software to integrate with Apps, O'Hara said, but did have to do some development to accommodate the sign-in and navigation process.
Battling Microsoft
About 25 million users and two million businesses have adopted Google Apps in the last three years, so there's a built-in audience for the applications, according to Google.
However, it remains to be seen whether the marketplace will help Google Apps make a better showing against Microsoft Office and its soon-to-be-born online version.
The answer is, "not likely," said Sheri McLeish, a Forrester analyst who covers enterprise software.
"I haven't seen an appetite for it," she told the E-Commerce Times. "There's really no immediate benefit."
Larger businesses are too tightly coiled in the Office ecosystem to make the wholesale switch to Google or any other alternatives, noted McLeish. Businesses have too great an investment in software solutions that run and work with Office to switch.
Microsoft does have marketplaces surrounding its products, but they aren't of the "click-and-install" variety that Google is touting, and that competing online productivity provider Zoho offered before that, McLeish said.
One thing that could begin driving businesses away from Microsoft is the cost of continuing to work with an Exchange server setup, she said. That could lead companies to begin looking at offsite email services such as Google Apps, and that could open the door to wider acceptance.