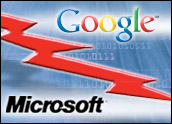 There's a common thread running throughout Google's latest legal worries: antitrust accusations, most notably several complaints filed with the European Commission.
Last week, the EC opened an inquiry into Google's search ranking algorithm, based on claims of unfair practices made by three companies, two of which have ties to Microsoft.
The Microsoft connections are no coincidence, Google maintains. It believes that Microsoft has been working behind the scenes to spur regulatory authorities such as the EC to launch investigations, according to statements the company made to The Wall Street Journal.
Google is also accusing Microsoft of funding small companies' antitrust complaints against it, according to the Journal.
For example, a small company filed a 24-page antitrust suit against it in response to a suit Google had filed against the firm for unpaid advertising bills. The smoking gun, Google told the Journal, was that the company's lead counsel in the action was Charles "Rick" Rule, the chief outside counsel on competition issues for Microsoft.
Google made a not-so-subtle reference to Microsoft's role in the EC inquiry last week. One of the complaining companies didn't have any problem with the rankings until after it was acquired by Microsoft, said Julia Holtz, Google's competition counsel, in a blog post.
Ciao! was a long-time AdSense partner, with which Google always had a good relationship, Holtz said. "However, after Microsoft acquired Ciao! in 2008 (renaming it "Ciao! from Bing") we started receiving complaints about our standard terms and conditions. They initially took their case to the German competition authority, but it now has been transferred to Brussels."
New Tone
The pointed accusations this week, however, have a new and unusual tone, noted Laura DiDio, principal, ITIC.
"The long knives and bare knuckles are coming out, which is not usually seen among high-tech companies," she told the E-Commerce Times. "Companies in this space don't have any qualms going after each other on competitive issues — but antitrust is something that can touch any of them, so they usually stay away."
Microsoft, of course, has a storied history of being hit with antitrust accusations, investigations, oversight and penalties.
"It is going to be good at this kind of fight, because it has been subject to it for so long," DiDio predicted.
Microsoft has denied involvement in these incidents in media reports, although it has acknowledged that it is one of many entities becoming increasingly concerned about Google's growing dominance.
Neither Microsoft nor Google responded to the E-Commerce Times' requests to comment for this story.
Even if Microsoft were behind the EC's inquiry — which has not yet reached the formal stage of investigation — that is not necessarily illegal, Keith N. Hylton, a professor at Boston University School of Law, told the E-Commerce Times.
It's not clear that Microsoft's alleged involvement in these investigations is relevant, he said. A bigger issue is that antitrust law is becoming a competitive instrument among high-tech firms.
"They have tended to stand by and keep mum, or to file additional complaints, when a rival is investigated by antitrust regulators," noted Hylton. "Even when rival firms under investigation have acted in a manner that is probably pro-competitive, they have not spoken in favor of competition rules that encourage pro-competitive conduct. This is an approach that is going to leave them all worse off in the long run."
Competitors' Stakes
Microsoft has the right to raise issues that it feels could stifle competition, N. Venkatraman, a business professor at Boston University, told the E-Commerce Times.
It too can be potentially injured if the rules are not followed, he said.
In fact, antitrust complaints usually stem from competitors' complaints, notes Microsoft Deputy General Counsel Dave Heiner in a blog post.
Also, at least where the EC is concerned — the agency is not stupid, remarked Christopher M. Collins, a partner with Vanderpool, Frostick & Nishanian.
Microsoft is hardly a friend of the competitive authorities there, but it would likely accept research Microsoft performed showing the possibility that rules were not being followed, he told the E-Commerce Times.
"That doesn't mean they would automatically launch an investigation," said Collins. "They would weigh all sides to it — including the possibility that by aiding Microsoft with going after Google they are creating another anticompetitive situation."