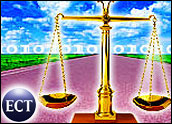 Since the revelation last week that the Justice Department has subpoenaed Google for search term data, Internet users have been awakened to its profound ramifications. At some date in the future, many fear, they may be confronted with questions by the government or from law enforcement agencies about their own search behavior.
Companies may be just as vulnerable. Much can be revealed about an organization's activities by perusing employees' search requests — everything from its consideration of potential employees to its interest in potential acquisitions.
Government investigators looking into securities fraud, antitrust activity or sexual discrimination would likely find this data useful.
Search data already has been used in some family law and civil law proceedings.
"The fallout from the Google case is that these requests will increase exponentially," Thomas Burke, a San Francisco-based attorney with Davis Wright Tremaine's Privacy and Security Group, told the E-Commerce Times.
"I think now companies can expect to deal with this issue regularly [in civil litigation]," he said.
Anxious Echoes
This issue has come up in other venues and circumstances, according to Jim Halpert, a Washington, D.C.-based partner in the E-Commerce and Privacy, Intellectual Property, and Government Affairs practices of DLA Piper Rudnick Gray Cary.
"Certainly, attorneys who use Westlaw and Lexis are eager to protect the confidentiality of their search requests," he told the E-Commerce Times.
When the Patriot Act was first debated, the issue of tracking Web log visitors came up during the debate, he recalled. "It wasn't directly addressed in the Act, but it was something that was discussed behind the scenes."
Access to search engine data may be a double-edged sword. One possibility that does not appear to have been explored — at least not yet — is the right of individuals, based on the Freedom of Information Act, to request search terms that government employees have used, which may reside in agency databases.
Another option might be to get a FOIA request to see what search terms have been used by visitors to a particular agency's Web site. "If you didn't ask for personally identifying information, it would be interesting to see if the government cited privacy as a reason to refuse," Burke said.
Magistrate by Magistrate
Most of these issues are likely going to be addressed on a case-by-case basis, probably when they come up in discovery. Magistrates make these decisions frequently, Halpert noted.
"These are funny issues, though," he said. "The requests are very fact-based and the rulings are not meant to be applied across the board. Another request might lead to a different result or answer. The magistrate judges have a lot of discretion on how to rule."
That said, the Justice Department's subpoena has highlighted the availability of a new tool that may end up being used by the government and civil litigants alike.
Even if Google loses this particular fight, getting the issue into public discourse has been a good thing, Burke maintained, citing surveys that showed a significant portion of respondents were surprised to learn that their computers could be traced from their search requests.
Sooner or later, case law will be established to address some of these issues, attorneys believe. Meanwhile, Halpert said, "employers and individual Internet users alike will have to watch the developments over time to get a sense of which direction the law is going."